A leather sofa is undoubtedly a choice of style and elegance for your stay, but it is also a choice to be made after a careful evaluation of the pros and cons of this type of sofa.
Let's see them together.
The advantages of the leather sofa
- They acquire charm and value over time
By choosing a leather sofa, you are sure to buy a long-lived product that the more signs of time on its surface the more beautiful and lived-in it will become, giving your living room that typical British charm.
- It is easy to clean
With a leather cleaner, you will no longer have allergy problems; you can wipe it with a wet cloth and remove dust. Remember, however, to nourish the leather of the sofa with specific creams and products at least twice a year.
You might also be interested in tips for washing your sofa
- It is versatile
Today you can find many types of leather sofas, from the most classic and traditional to the most contemporary; in this way you can choose the one that best matches your furniture.
- The protagonist of the room
The leather sofa will undoubtedly become the highlight of your living area.
The disadvantages of the leather sofa
- High cost
A real leather sofa, precisely because of the quality of the material it is made of, is always more expensive than sofas in fabric or eco-leather. We also remind you that it is much more resistant to the passage of time.
- The temperature
The leather sofa takes the temperature of the current season. Especially in winter, you might feel a cold sensation sitting on it while in summer, on the contrary, it might get hot and be an annoying element for your leather. Our advice is to use warm wool blankets in winter and cool linen sheets in summer.
Rosini leather sofas
If you are convinced to buy a real leather sofa, here are the models of Rosini, a company that has always been able to interpret the classic in a modern key.
Cambridge model
Let's start with a dazzling proposal, a beautiful red leather sofa accompanied by its red leather pouf. A perfect idea for the most whimsical personalities and the most lived-in living rooms.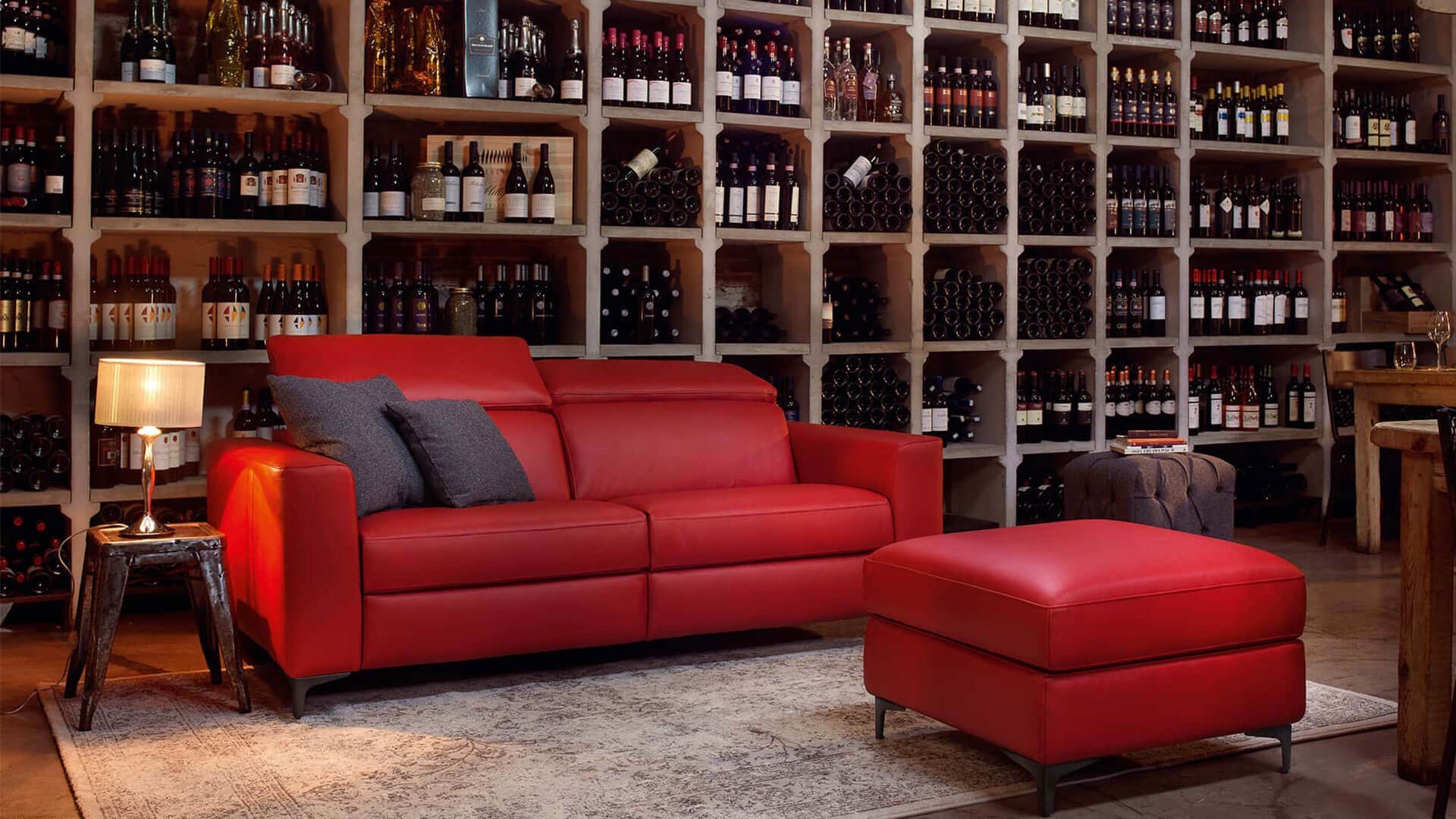 A comfortable model with a modern design that can be made even more comfortable if you decide to equip it with optional extras such as the relaxation mechanism.
We also have a more minimalist version, not only for the clean and essential lines but also for the colour: white. A very delicate proposal, it's true, but look how well it seems in such a rustic environment.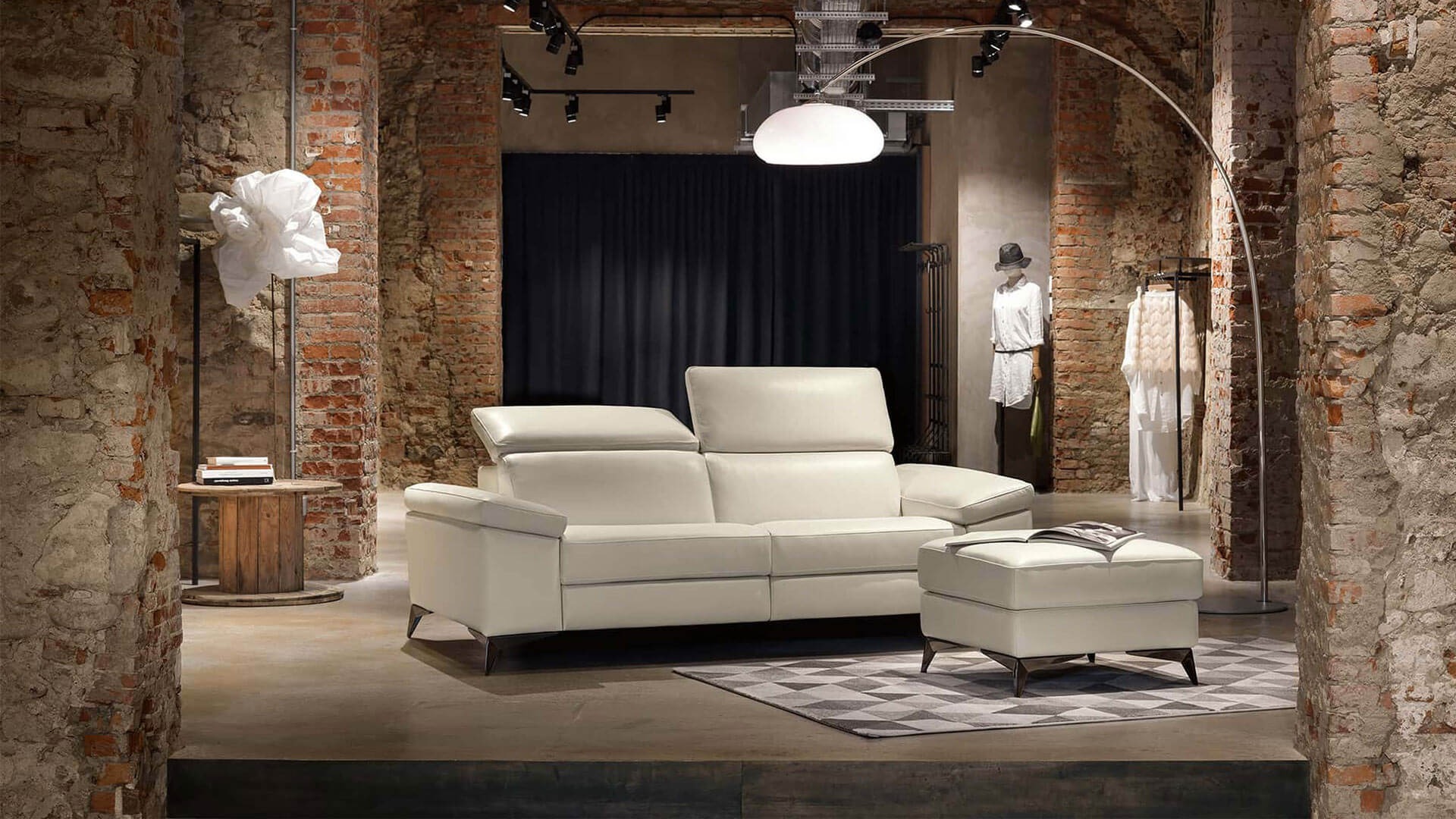 Sirmione Up model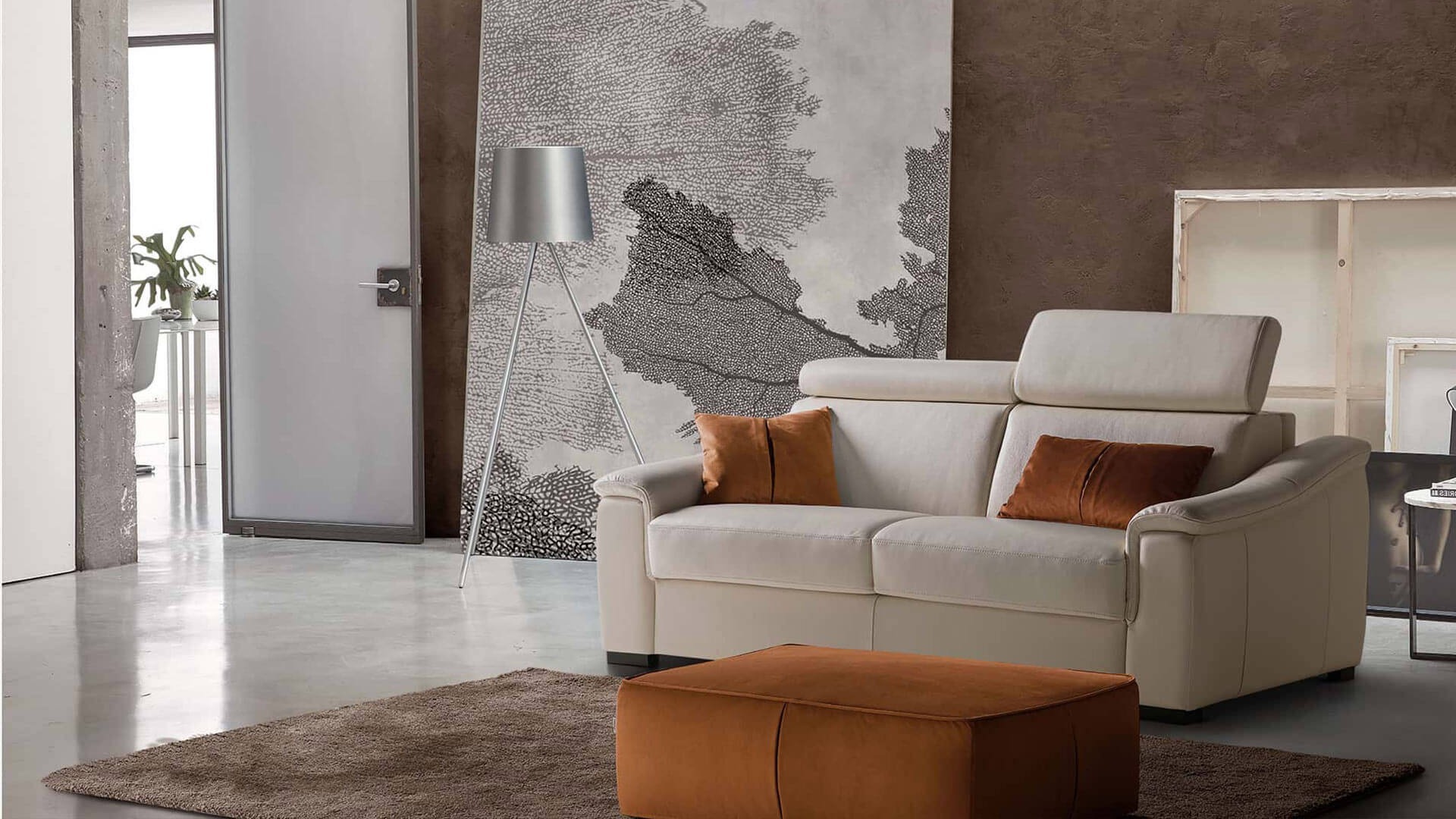 In the photo, we see how a simple two-seater sofa can become the protagonist of a large living area. Beautiful also the combination with cushions and pouffes in the material of strong contrast, both visual and tactile.
This proposal is a convertible solution with H18 mattress, always to guarantee high standards of comfort.
Stelvio Smart
Look at the design of the armrests and the seat; they release softness at a glance. The keyword is always comfort, so here is one of the alternatives in which Rosini declines this concept.
It is also a sleeper sofa, easy to open, perfect for spaces of any size.
Model Sulmona
This model stands out from the others for its more sinuous shapes and lines and its soft padding. For unparalleled comfort, also include the electric relaxation system, for moments of maximum relaxation.
Liverpool model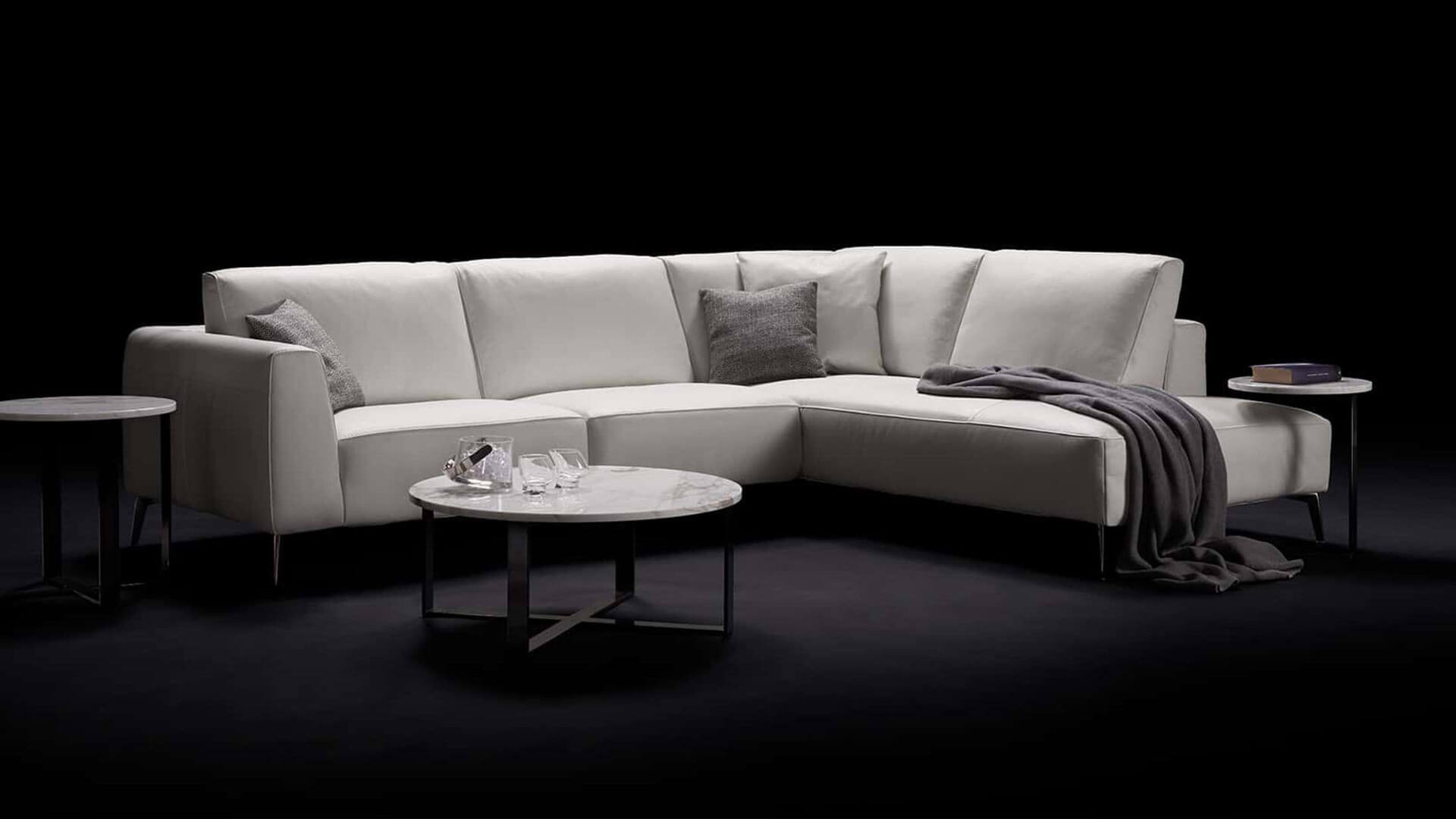 Elegance, comfort, great flexibility: this model offers the best you can ask for from a sofa. A leather sofa that with its formal design becomes perfect for even the most modern environments.
A perfect solution for pleasant chats with friends and unforgettable moments of relaxation.
Silverstone model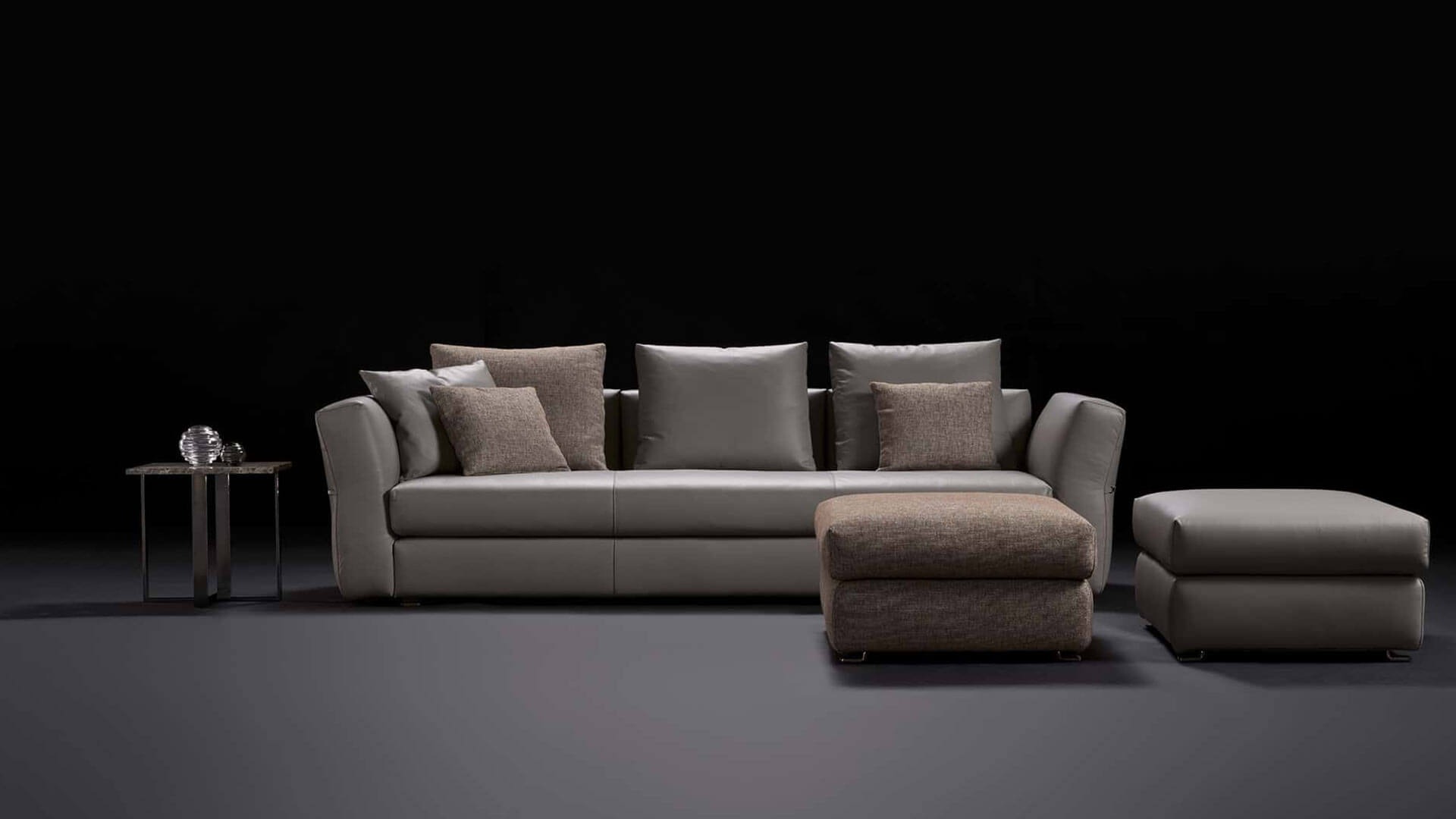 A model that thanks to its easy and versatile composition lends itself well to furnish every scenario and every living room. Its timeless lines allow anyone to find themselves and feel at ease, always because guaranteeing maximum comfort is Rosini's guiding principle.
Even the armrests are equipped with an internal mechanism that allows you to find more comfortable positions.
A Rosini leather sofa is a refined and practical proposal at the same time, and we are waiting for you to guide you in the choice of your couch.
If you are looking for ideas for your new sofa also read Sofas XXL: the models not to be missed