The charm of the bookcase is immutable over time. Despite the advent of digital, books remain the first choice for those who still love the scent of printed paper, for those who still prefer a conventional reading method. And then let's face it, today there is still a very refined choice of furniture.

The bookcase is one of those furnishing accessories that will never fade and that can be used for different purposes.
It allows you to keep everything in order, not only books, but other objects as well. Having many shelves, it is sometimes used as a showcase to display framed photographs, ornaments, vases, etc.
It can be placed on the wall or you can opt for a double-sided bookcase and place it in the center of a room to divide the environment.
Unlike a wardrobe, the bookcase leaves its contents in sight and whatever the location it is therefore important that attention is also paid to the arrangement of the contents in the right balance between empty and full, book and object, so as to give dynamism to the structure. You can also decide to give a touch of elegance by playing with the backlight thanks to the use of small LEDs that allow you to highlight profiles and particular shelves.
But let's see below what are the aspects that should determine the choice between a full-wall bookcase or a bookcase in the center of the room.
CHOOSE THE FULL WALL BOOKCASE
Choosing a full-wall bookcase is not easy at all, we need to plan with great attention which characteristics it must necessarily possess so that it can integrate perfectly into the environment in which we intend to place it, but above all, we need to understand if we want to lean towards maximum customization or towards more fixed solutions.
To be able to equip an entire wall, for example, you need to opt for a modular or modular structure so that you can have free space to adapt it to the measures available in the home. Thus, among shelves and cubes, flap doors and open compartments, it is possible to give life to a unique and versatile composition that becomes one with the other furniture that decorate the room.
On the other hand, if you live for example for rent, the need to move the structure may arise, for this reason we recommend self-supporting, mountable and demountable wall solutions are ideal for being easily moved from one place to another.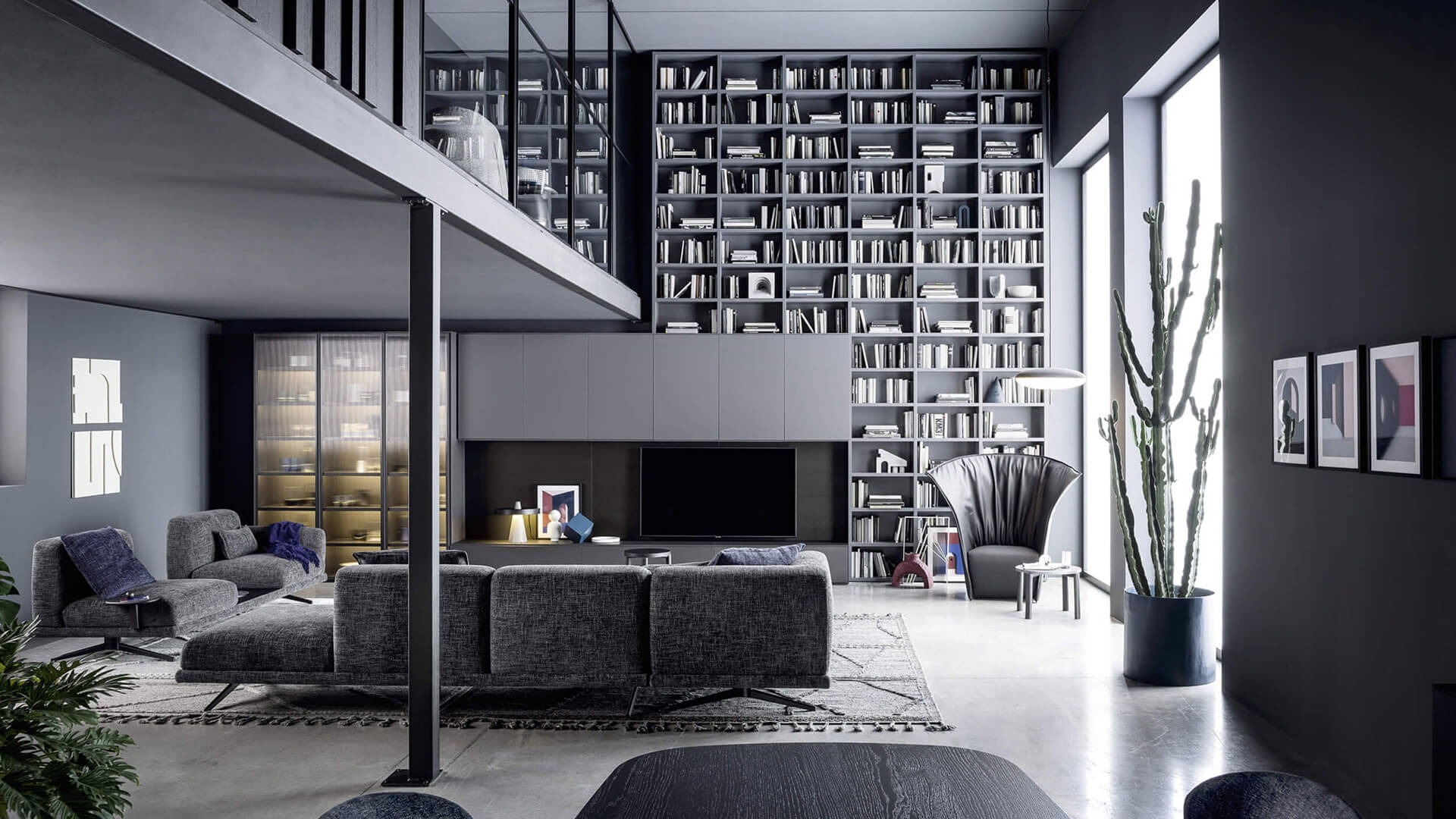 WALL30-NOVAMOBILI: Modular, complete and flexible, Wall 30 is the load-bearing shoulder bookcase characterized by three depths, sliding systems and closed volumes, for a contemporary and complete image of the living or sleeping area.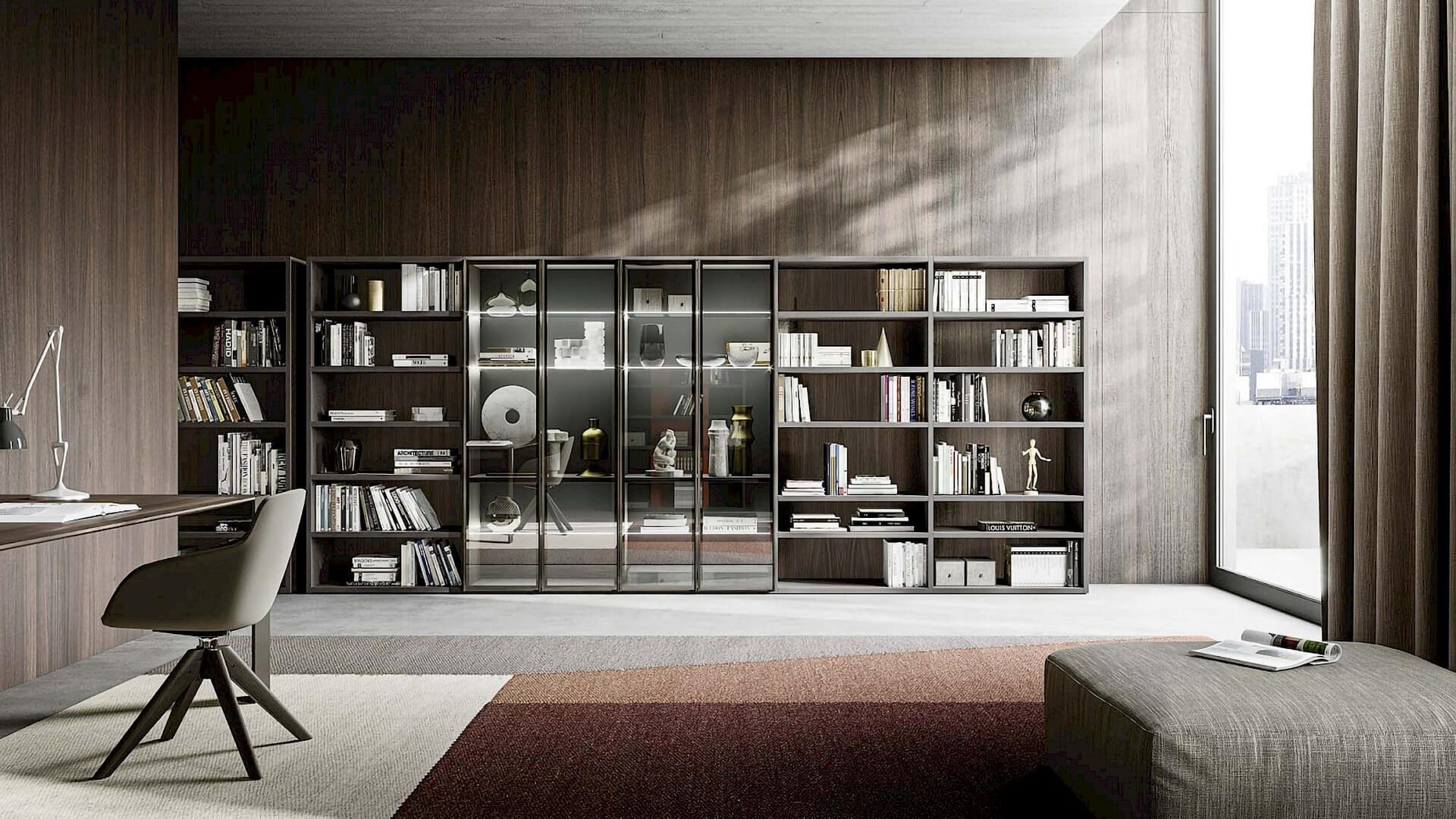 LOGIKO-JESSE: Shoulder bookcase with a refined design, made of top quality materials and details with attention to even the most hidden points. Sides and shelves of only 30 mm give lightness to a structure that can be embellished with transparent showcases and illuminated details. Available in two depths, 352 or 448 mm, for a different capacity, the Logiko free-standing bookcase offers many customization possibilities: TV stand panels, drawers and chests of drawers that help organize the space, lacquered or glass sliding doors that give fluidity to the composition, flap or hinged doors to choose from wood, lacquered, lacquered metal or clay. With the Logiko bookcase system you can also create horizontal and hanging bookcases.
DIVIDE THE ROOM WITH THE BOOKCASE
The evolution of design from the 90s to today has brought with it many novelties, in style, but also functional. And so the classic bookcase with shelves becomes a piece of furniture with the most disparate shapes, sizes, colors, materials and vast compositional possibilities.
It can therefore be destined to its primary use, that of containing books, but also to separate a room.
The models that can be used for this purpose are called double-sided, having the finishing on both sides and being without the backrest to be placed on the side of the wall. These libraries allow you to give a sense of "separation" between one environment and another without completely closing the area, without the need to act on the structural component (for example by building a partition) and still leaving the necessary open space. to let the light through.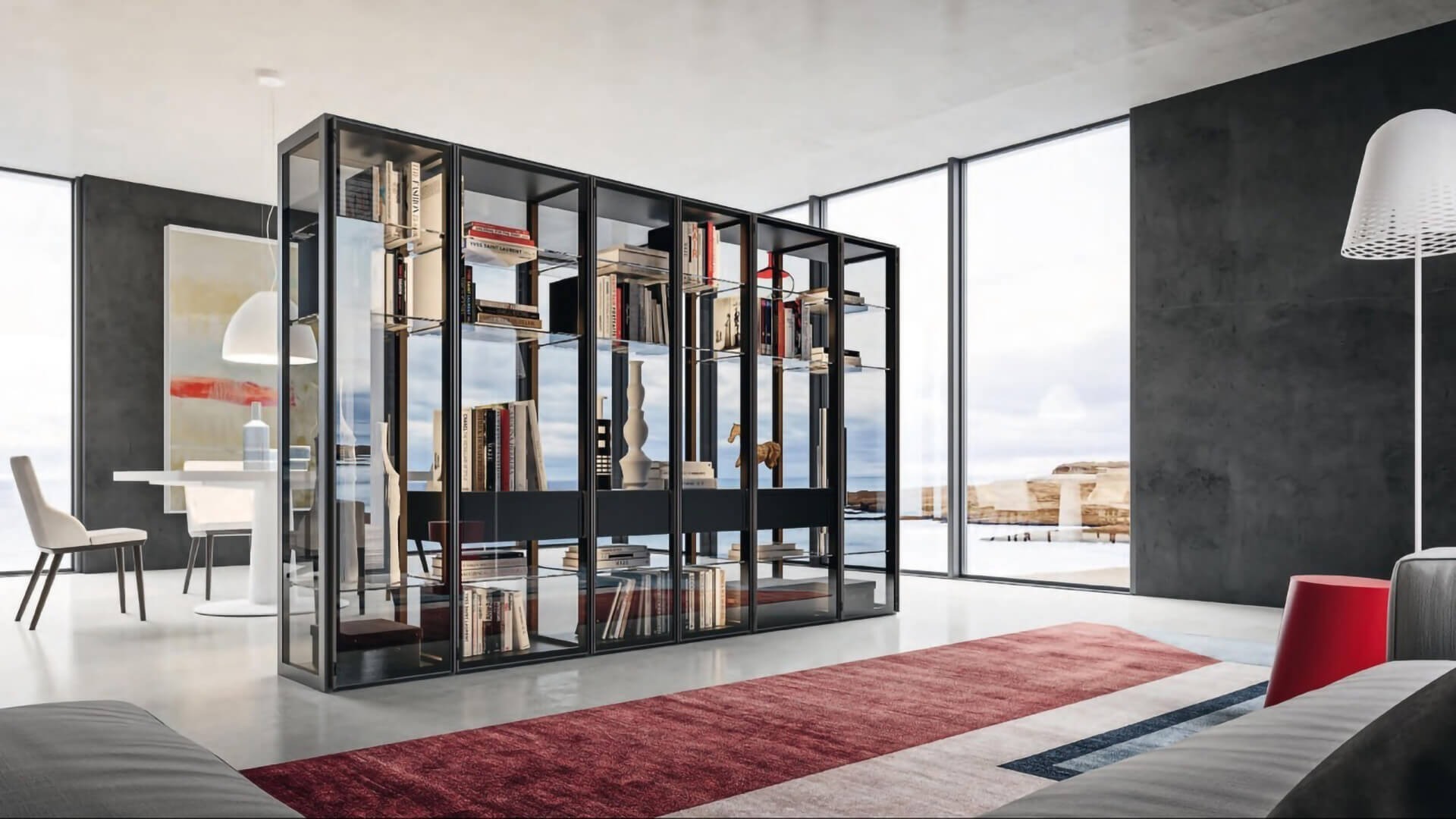 PASPARTU-JESSE: Brightness and transparency characterize Paspartu, an evocative design bookcase, which explores new concepts of living. Glass, a noble and fascinating material, is the undisputed protagonist of this bookcase system with through shoulder, perfect for furnishing living rooms and open spaces. Completely in tempered glass except for the aluminum structure, Paspartu denotes space with great lightness. In the center of the room it divides the space with elegance: light filters through it, playing with the transparency of the glass doors, sides, backs and shelves. On the wall it gives lightness to the environment and becomes scenographic with internal LED lighting.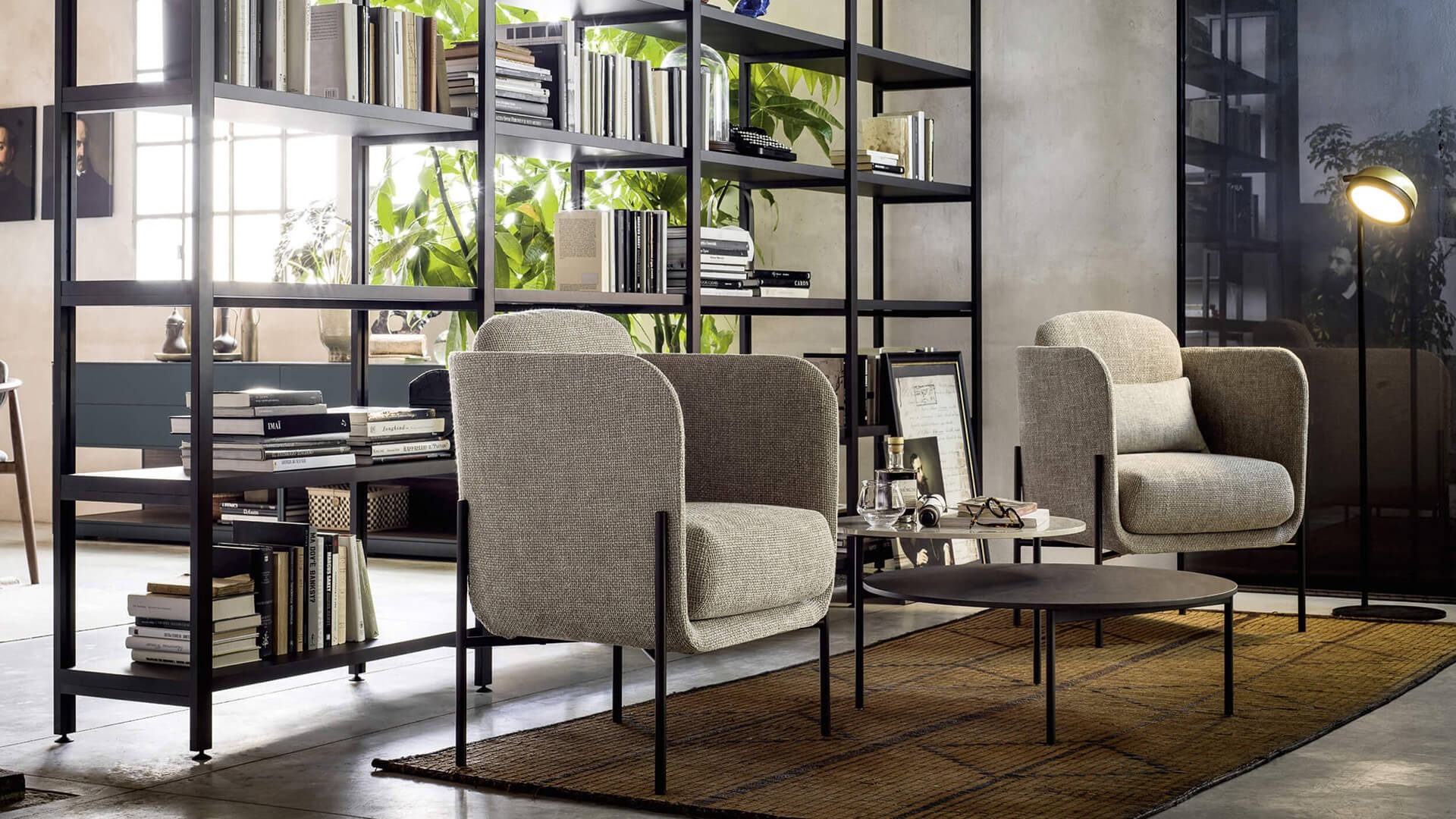 PONTILE-NOVAMOBILI: Pontile is a new modular and flexible shelving system in its compositions designed by Philippe Nigro. It can adapt to various spatial situations, becoming a solution capable of offering other types of containment in different environments such as the study, the kitchen, the bedroom, etc.