Today we focus on the living area, the most lived-in area of the house, and see the new 2021 trends for furnishing kitchens and living rooms!
• Functionality, minimalism and customization.
For the world of furniture, 2021 will be a year of functionality.
For some time now, furniture and design choices have been following this mantra. Still, in 2021 this guideline will go hand in hand with the idea of minimalism: enhancing the practical aspect of a piece of furniture by stripping the environment of everything superfluous.
This does not mean a lack of personality; on the contrary... it means highlighting only those traits that are capable of giving a strong personalization to your environment.
• Back to nature
The year 2021 will try to bring natural elements or references to the world of nature into the home.
Contact with nature is a need that has always belonged to a man. If it remained hidden among our modern society's frenzy until recently, today, following the lockdown, it has become a need of primary importance.
The combination of blue and blue shades and the colours of wood take us back to the outdoors, giving us that "natural" relief that man needs. The contrast between dark blue and light wood is very much in vogue!
Here is a proposal by Novamobili with its Box model. A small touch of blue inserted into a composition made of light wood. It is a proposal that is easy to match in any environment, but it is customizable above all. As we have already said, customization is the concept behind the trends of 2021.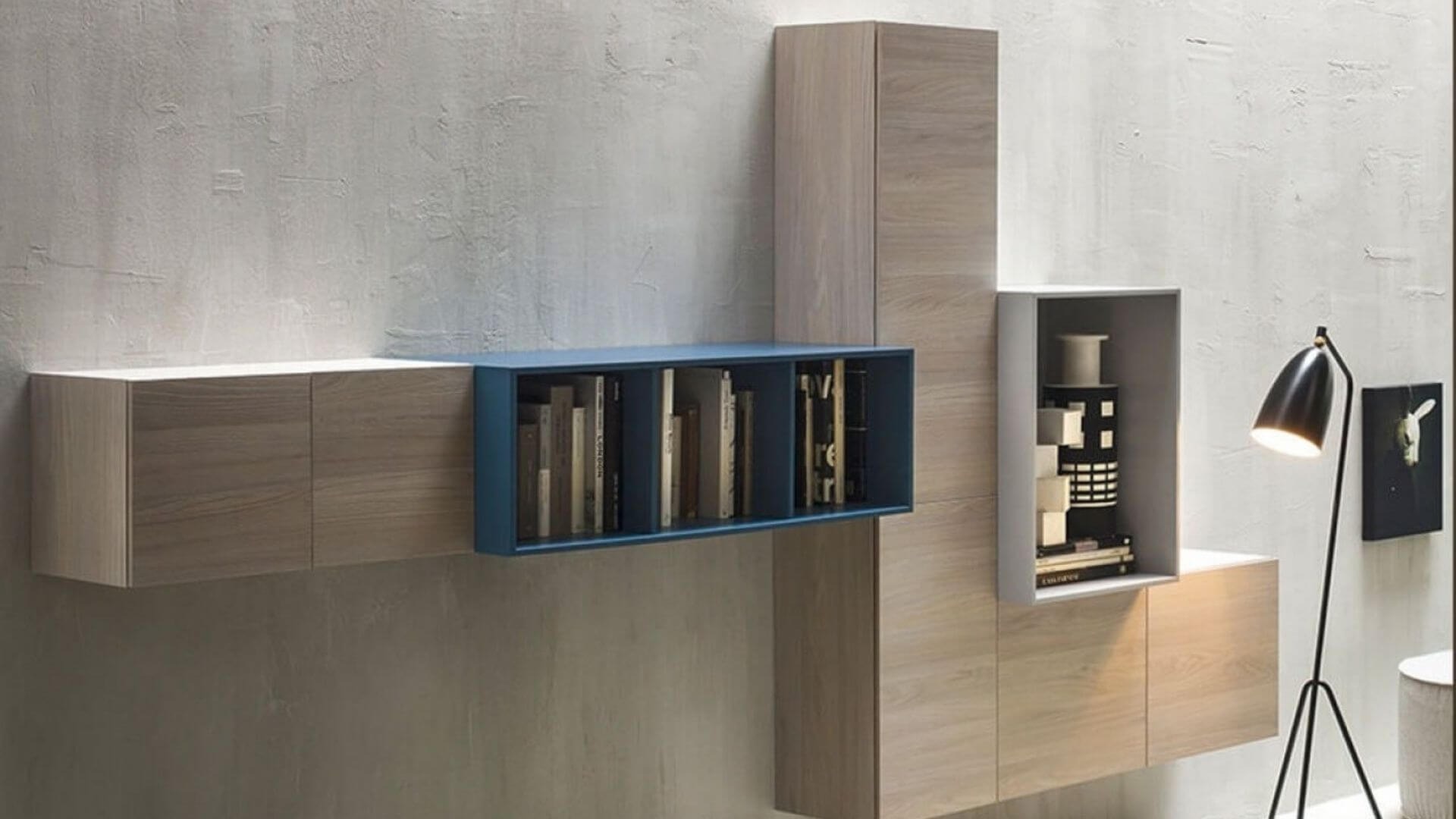 Increasingly, these choices also coincide with respect for the environment, favouring more eco-sustainable furniture. In this regard, we would like to tell you about one of our partners who has made sustainability its strong point: Pianca.
Wood from certified forests harvested using controlled techniques and against deforestation. Even their production process is carried out in full respect of the environment.
Today, choosing natural furniture does not only mean choosing colours but also materials and above all production processes.
• New materials
Glass and marble are back by popular demand. Be careful when using them: yes to minimalism, no to environments that are too cold and impersonal.
This is how Cesar Cucine skilfully uses marble. A dark marble peninsula that creates strong contrast with the white and decidedly bright environment. The marble return and an interesting contrast between black and white never go out of fashion and are always a trendy combination.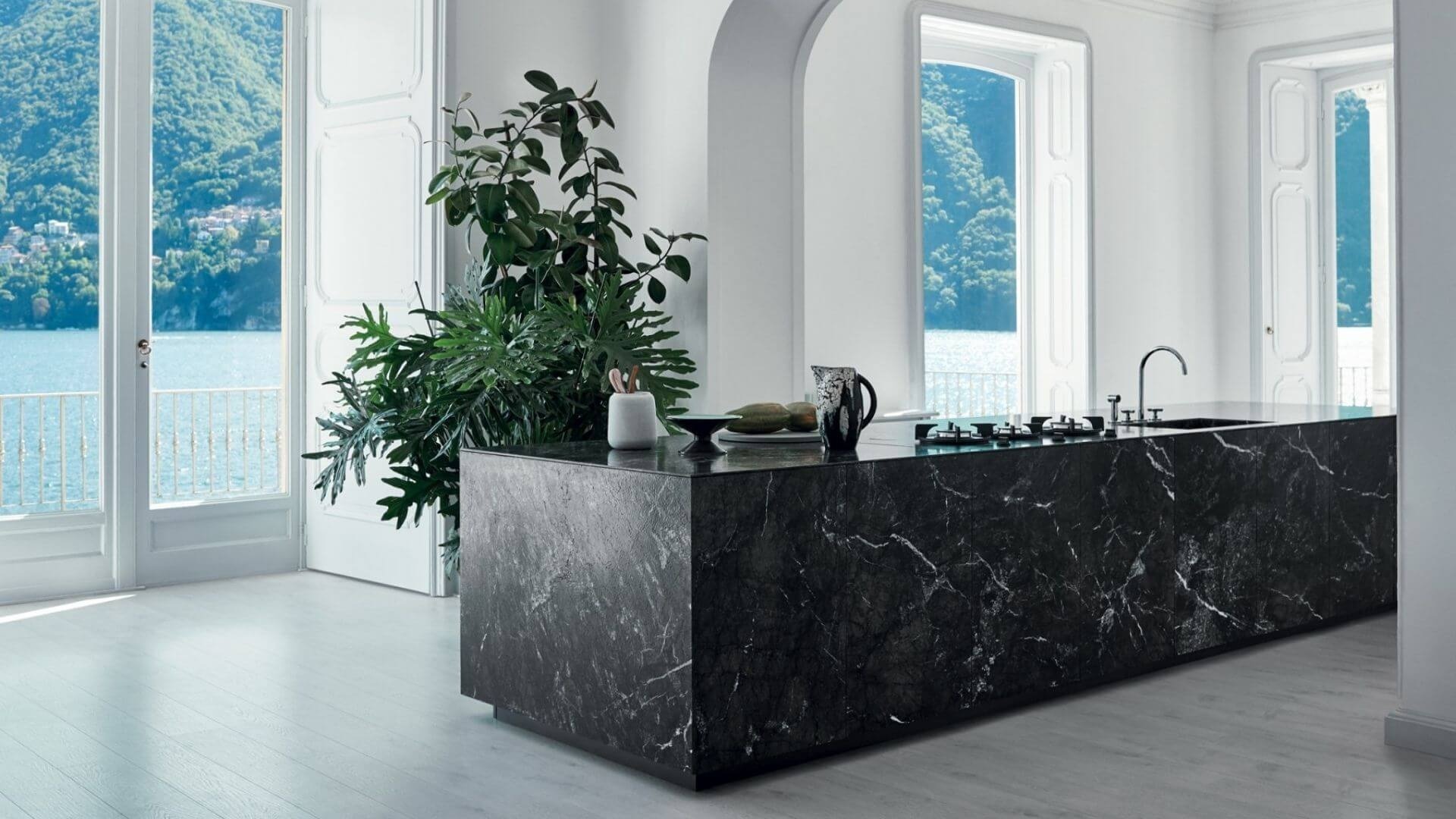 Speaking of materials: the real novelty is using innovative materials made from recycled elements and new technologies.
• The colours of 2021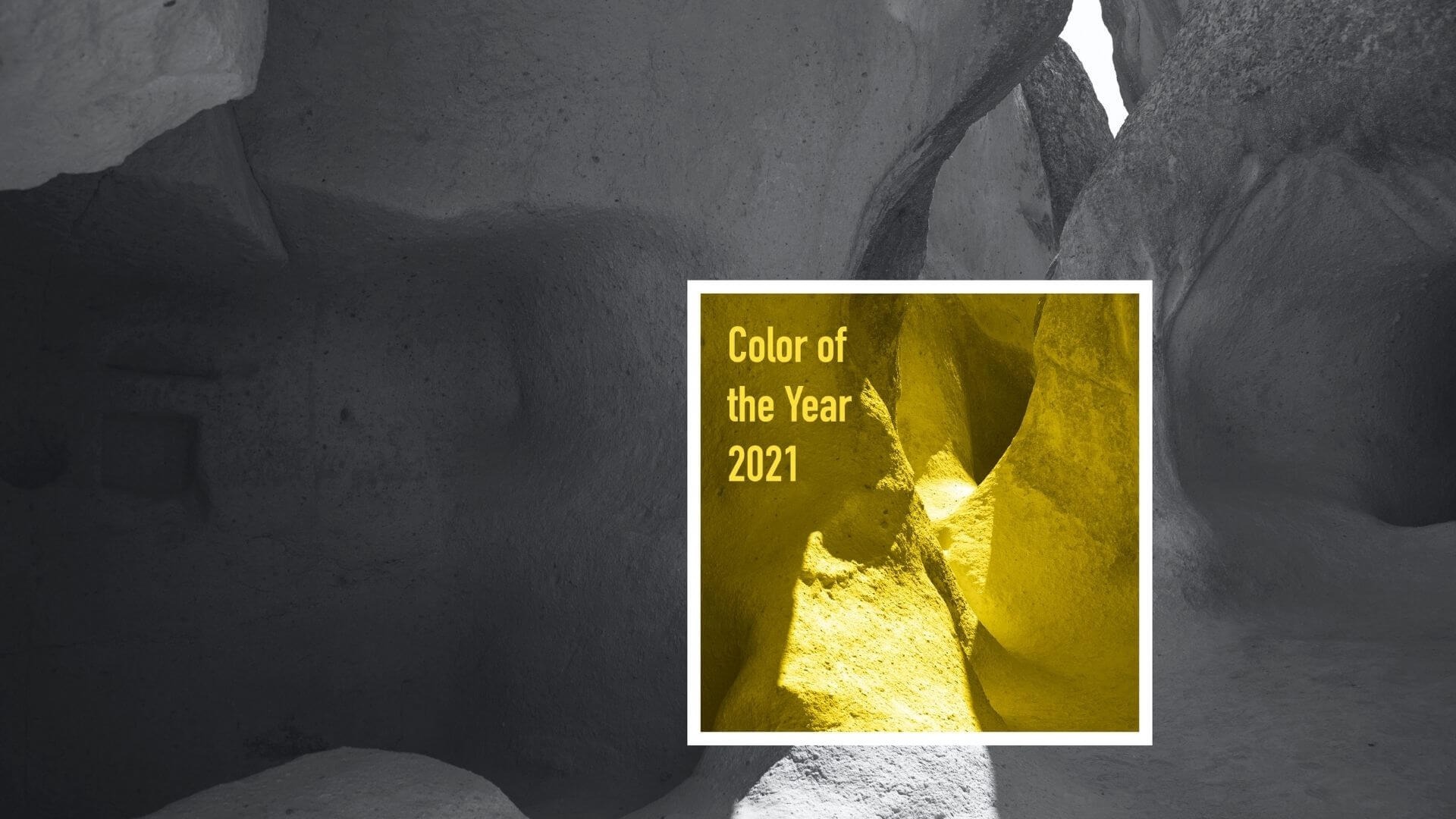 When it comes to trends, Pantone never lags. What are the chosen colours for 2021? Illuminating and Ultimate Grey. 
Two colours that were not chosen by chance: these colours not only make for interesting combinations in the world of design but above all have an important psychological value.
Grey is a neutral, strong colour that symbolizes precisely the need for stability and reliability that we are all looking for after the pandemic. It is a colour that comes from the natural world and is never intrusive, but on the contrary, always gives an elegant touch to the environment. On the other hand, Yellow is warm and vibrant, giving vivacity and light-heartedness; other more relevant needs than ever. 
Two colours that are difficult to match, but once the right balance has been found, they can give life to surprisingly welcoming spaces, characterized by vibrant refinement!
The Time kitchen by Arredo3 already shows us a small preview of this new combination. Visible yellow compartments that stand out and shine on a grey kitchen unit. This model's beauty is fully customizable, so you can add other vibrant yellow elements as you wish.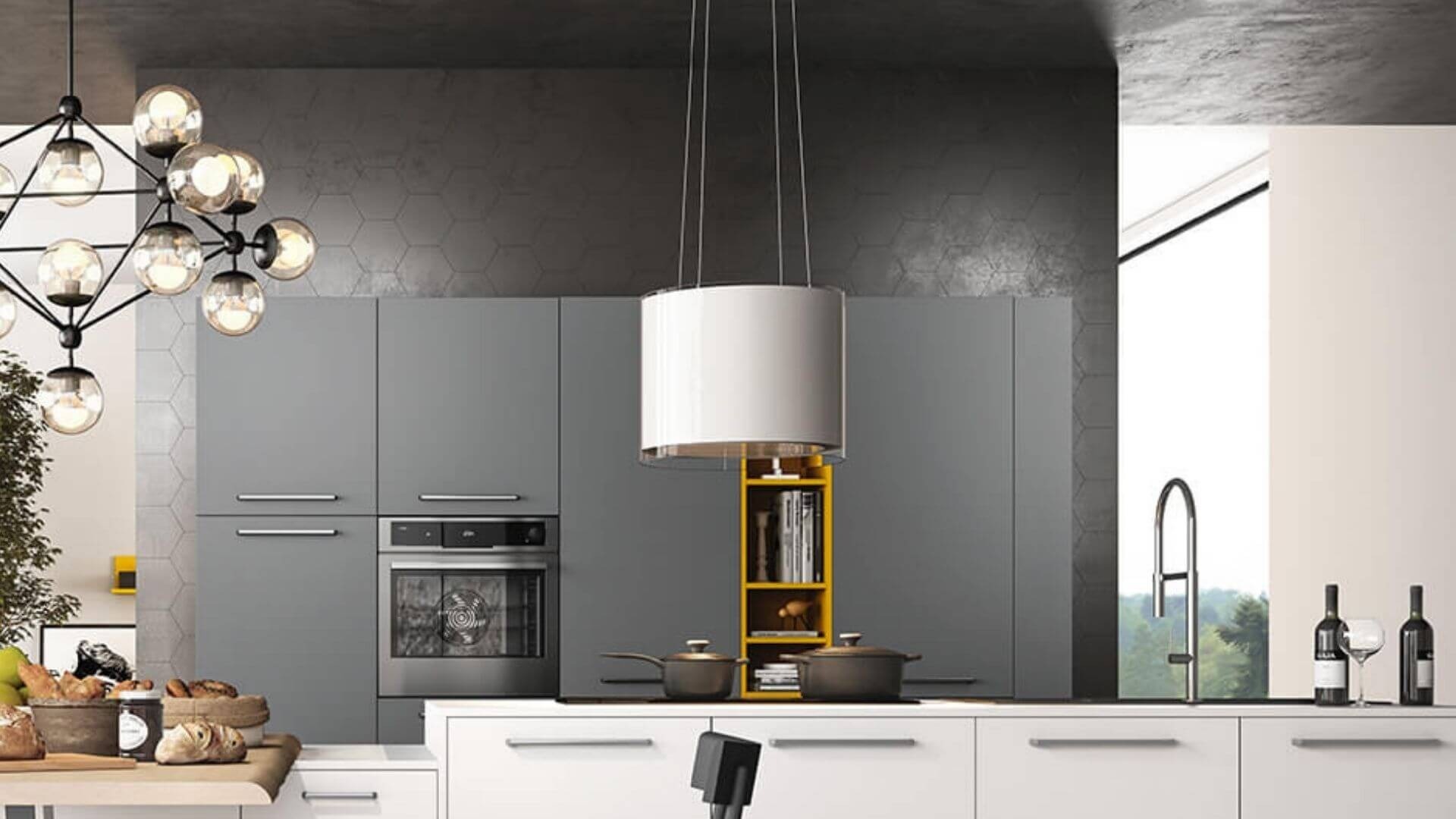 In the living room, too, we can indulge in the two new Pantone colours.
Our advice is to choose a grey sofa and play with yellow accessories and fabrics. This will make it easier to change the mood of your living room whenever you feel the need.
For example, look at the beautiful minimal and linear sofa, the Velvet model by Novamobili.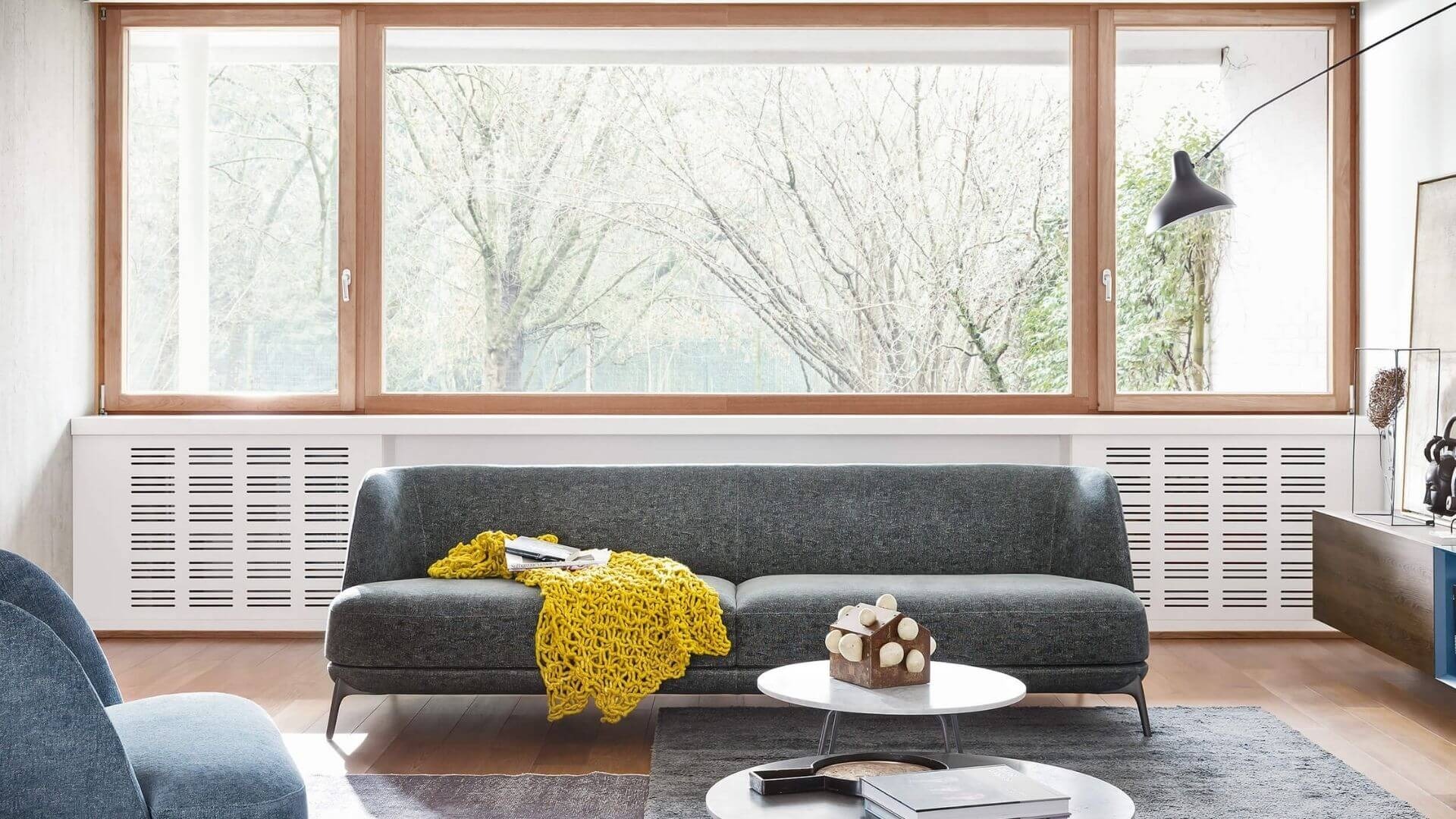 Here's how a beautiful yellow blanket brings the seat to life. But grey also lends itself well to other combinations. It will certainly match the colour of your cushions or next Pantone.
To find out how to use colours to furnish your home read also Furnishing your home using the right colour mix.
Now let's do a little summary:
minimalism and personalization
natural and eco-sustainable furniture
marble, glass, stone and new recycled materials
encouraging combinations such as the one proposed by Pantone (Illuminating and Ultimate Grey).
These are the guidelines for interior design trends 2021.
You just have to rely on our team of experts who will be able to help and guide you in choosing the right trendy furniture for your new living area. 
In the meantime, discover our entire living area, with lots of ideas for your living room and kitchen.