Today we will see how to furnish the children's room without making mistakes. As parents, you have to choose the furniture for your children's room, and very often this choice is made according to your tastes and needs, but this is the first mistake to avoid!
The room must be designed for the child and its needs, the furniture must be suitable for the child, and above all, it must be made to measure.
Choosing a room for your children seems easy, but it is not.
The room must be carefully designed in every detail; it must meet the child's needs and those of the parents. It must be practical and functional and beautiful, it must have plenty of space to allow the child to play in peace and without obstacles, but it must also have spacious wardrobes.
Therefore, the first thing to do to have a perfect bedroom set is to define what space is needed in the room. Generally, a bedroom is divided into three areas, one dedicated to rest, one dedicated to playing and one to homework. Choosing the right furniture from the start will give you peace of mind, without having to worry about changing furniture or reorganizing your space, for a long time.
Let's see now three tips for choosing your children's bedroom without making mistakes.
1. Organize your furniture correctly and make use of all the available space
Based on the above, it is necessary to use all the available square metres so that the three areas can be separated.
You don't need to have a lot of space; you need to choose the right furniture.
Mistral has always proposed solutions that find their strong point in their perfect balance between aesthetics and functionality: space-saving bedrooms that are easy to use and do not give up on attractive design.

This composition shows how the sleeping area and the play area share the same physical space, which is well used and subdivided with a comfortable drop-down bed.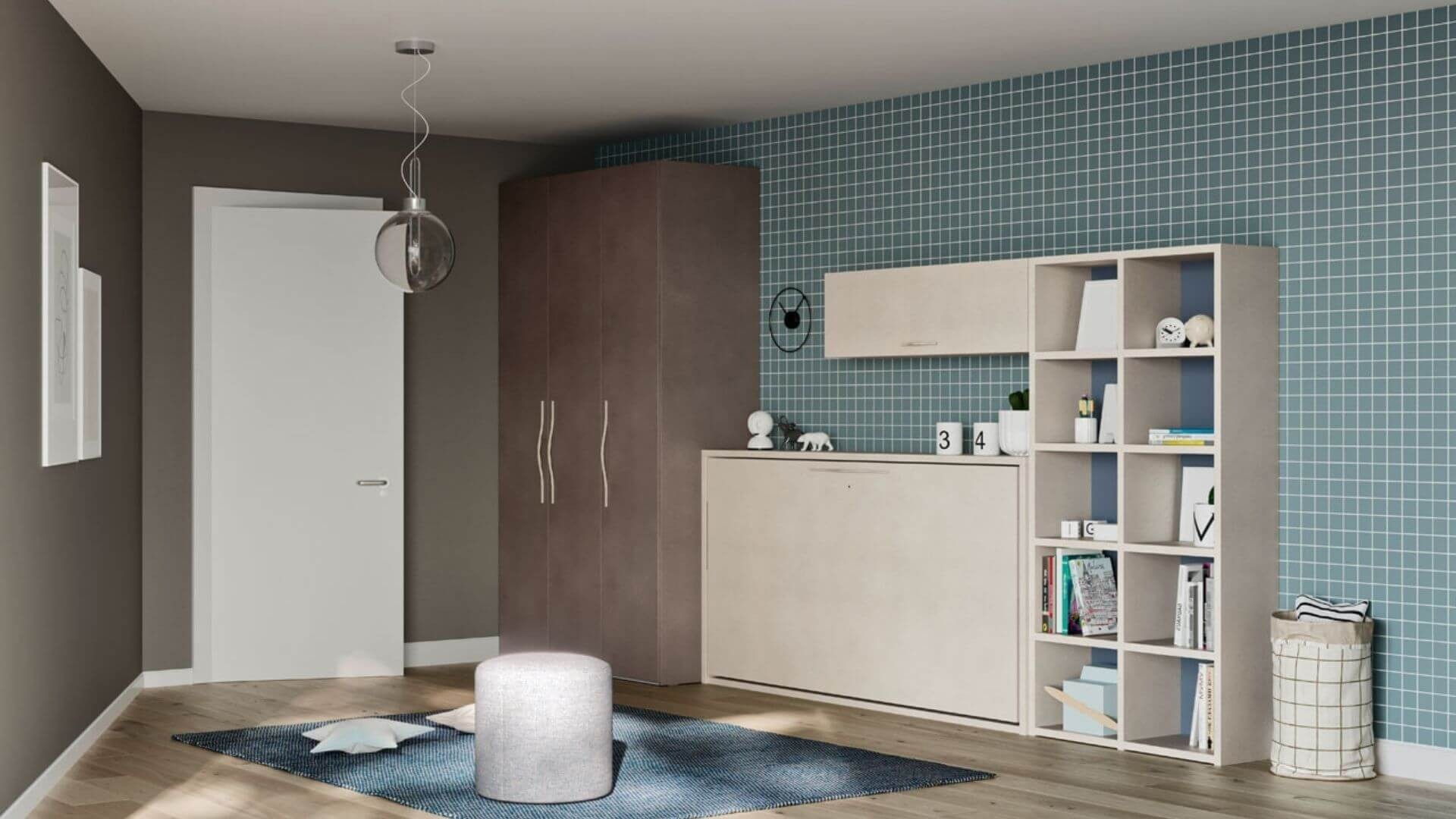 Another way to save as much space as possible is to use this space vertically with solutions where the bed is placed "high up", such as bridges or bunk beds. In the photo here, we see the bed placed at the top of the wardrobe.
Another company that is constantly dedicated to children and their needs is Nidi. 
We want to show you the Tippy convertible bunk bed.
With one piece of furniture, we have two beds and a pop-up desk and two big drawers.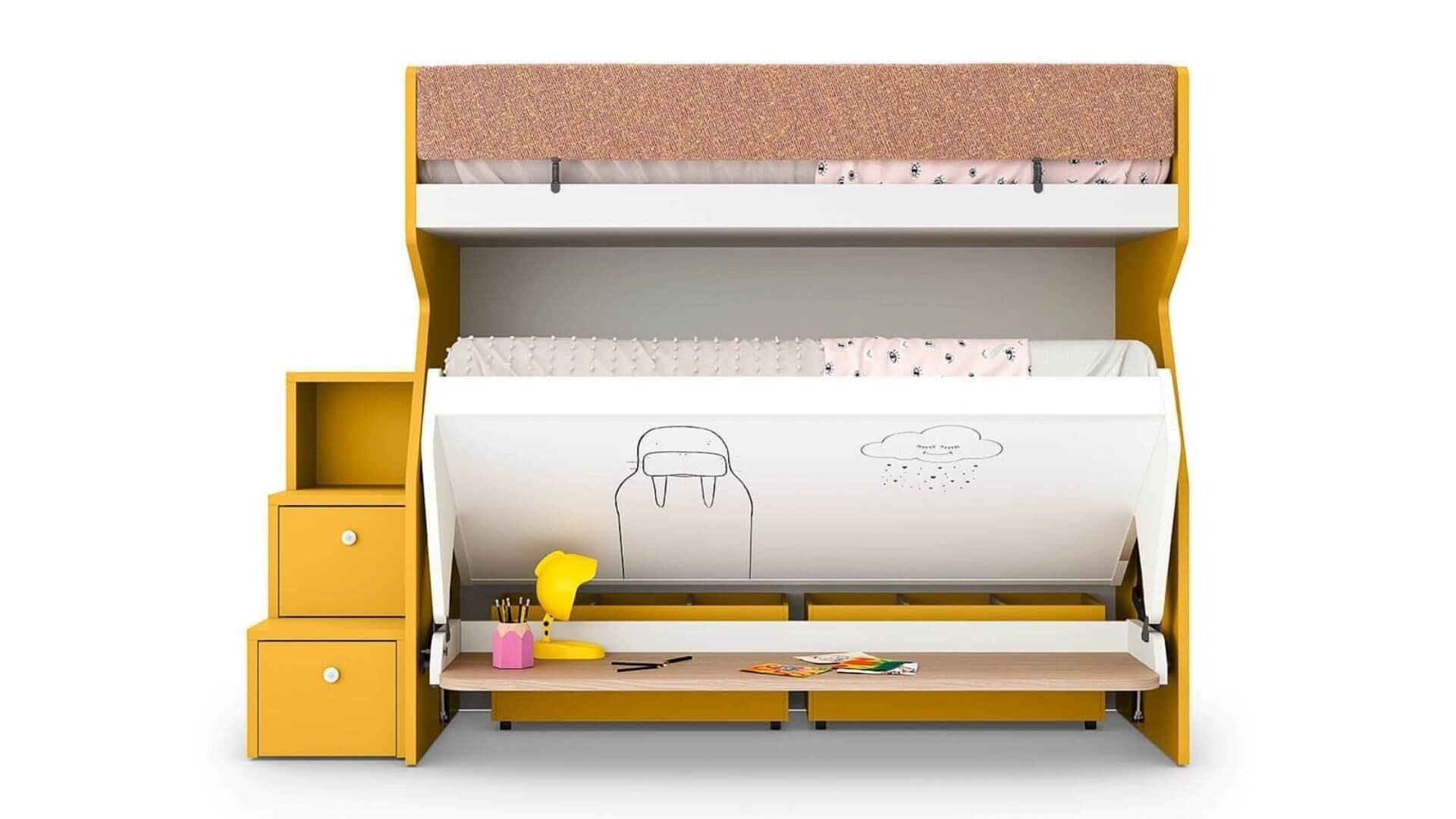 In short, there are plenty of ideas and solutions for furnishing children's rooms!
Remember that you should prefer large, roomy furniture so that you have the whole wardrobe in one place, and if possible, include a shoe rack. Also, include storage units for toys!
2. Few colours
Children grow up, become teenagers, and choose colours plays an important and strategic role. It is true that when children are very young, choosing bright colours is certainly the easiest and perhaps even the most spontaneous way, but this will lead to having to change the furniture very soon.
Our advice is to opt for a few colours, and especially for neutral colours.
In the picture, we see how the touch of liveliness was given by choosing an amusing wallpaper.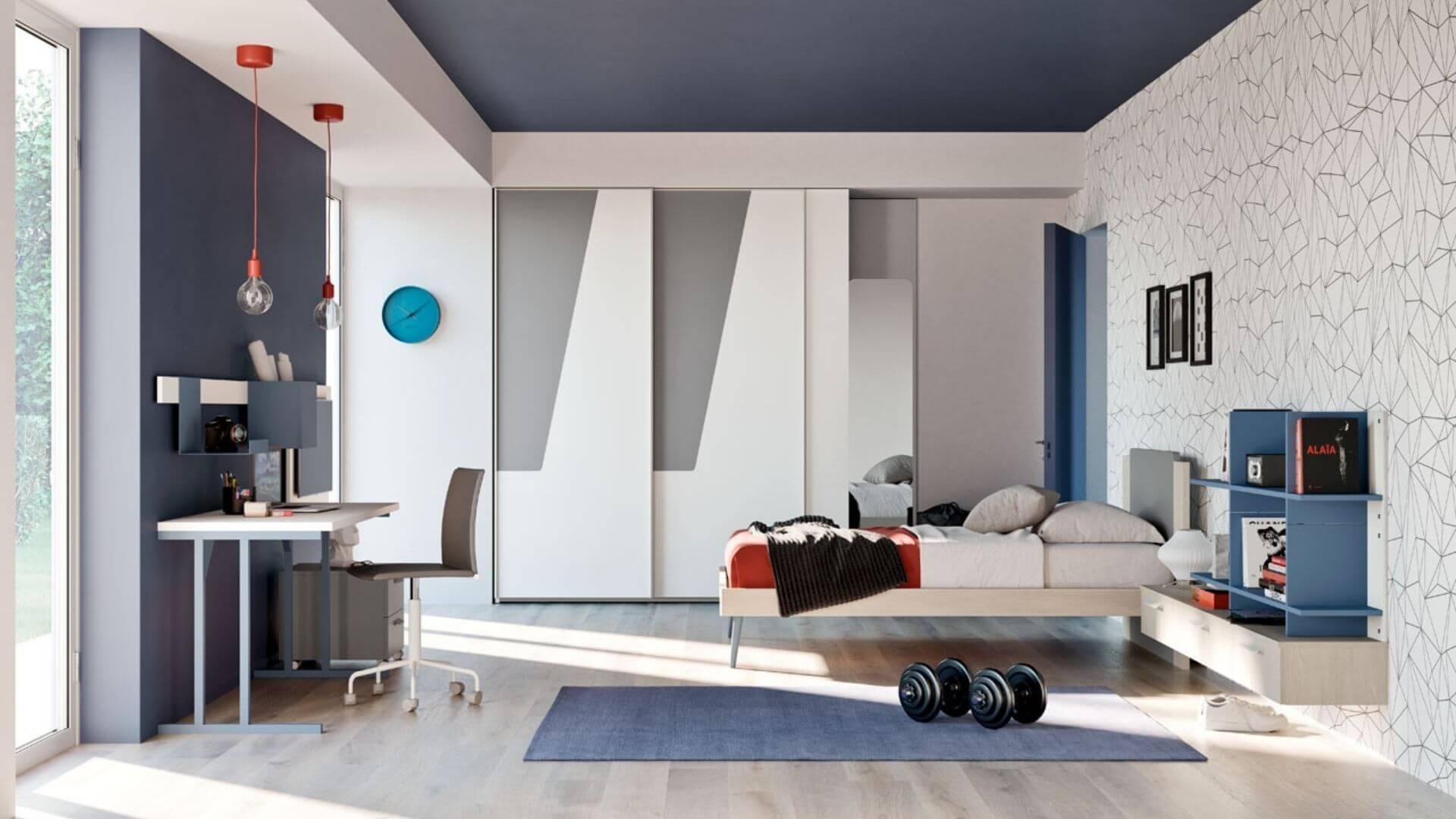 Bright colours are nice, but over time they can bore both you and your child. Use these colours to decorate the room with accessories such as curtains, carpets, bedding and a few frames. That way, when your child grows up, you only have to change these accessories and not the whole room.
For example, in this white room, we have some hints of colour in blue shades on the carpet, the cushion and some blue shelves. When your daughter is bored with blue, you can use new fabrics in other colours and the room will immediately take on a new style.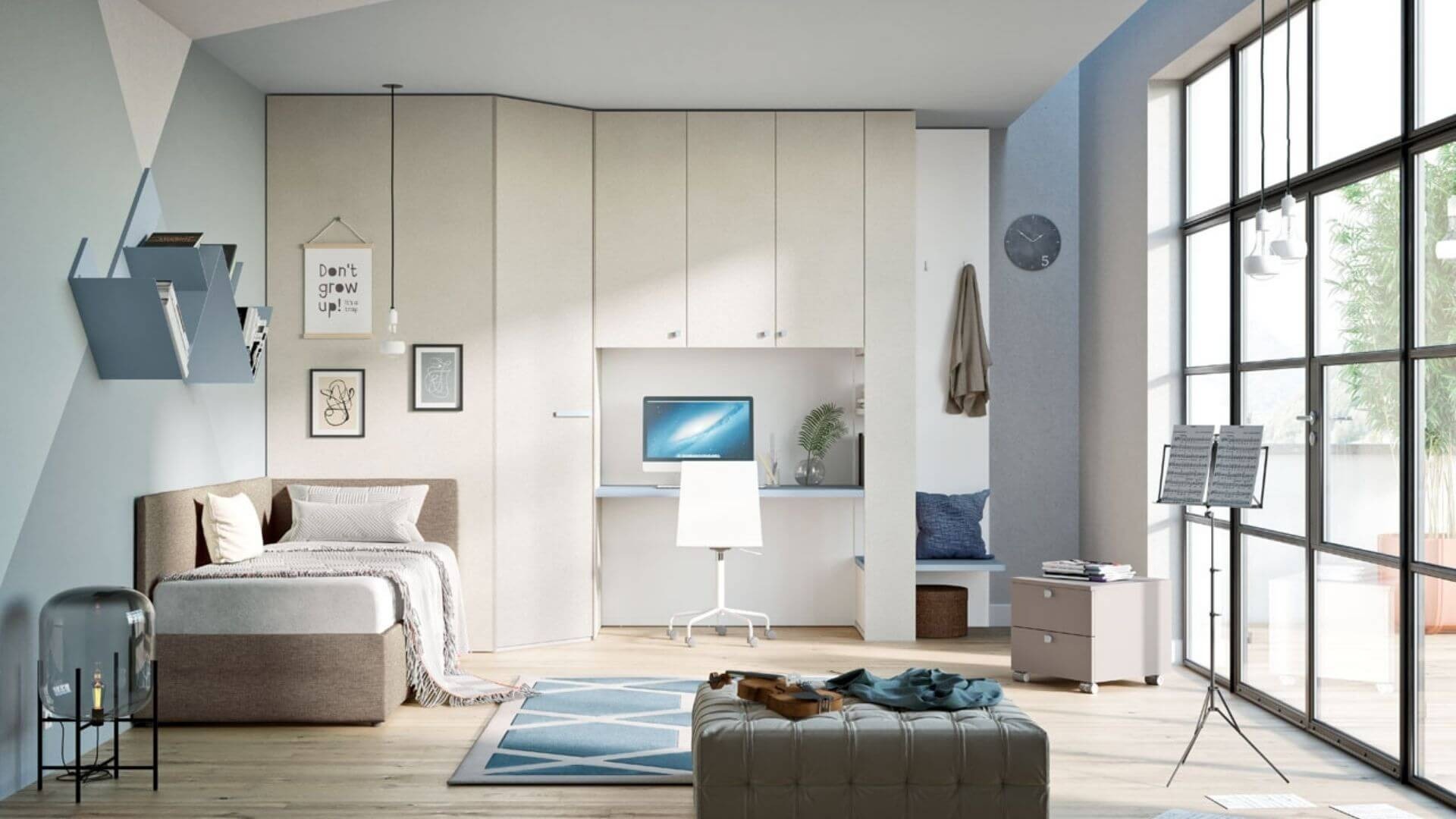 3. Natural light
Give your child the brightest part of the house as a present. Children spend a lot of time in their rooms playing and/or studying... it's good that their eyes are always rested.
Now that you have understood how to choose a room for your little ones, you can also read our article How to furnish a room.