How many times have we found ourselves having to carry out a project and not knowing where to start? Well, the important thing in this case is to free your mind and clearly define the essential elements that will characterize our environment. Sometimes it may happen that we can start from a "blank canvas", other times we are forced to adapt to existing realities. The second absurd case leaves less freedom of choice but is simpler:
- When a room is already partially furnished
Sometimes the private individual or the professional in the sector has to furnish a space that has already been partially set up. To compose a moodboard in this case you can focus on the domino effect, i.e. starting from an element that will constitute the reference point (for example the floor) and, taking into account colors, textures, material, etc. ... adapt everything else accordingly .
- When starting from scratch
Certainly less binding but more difficult to achieve is the moodboard for a completely raw environment. In this case, you can indulge yourself by deciding even the smallest detail and perfectly fit all the pieces in harmony to create what those who love interior design would call their own work of art.
However, what could be an obstacle to such a case is the famous "blank page crisis", the hell of every undecided and the nemesis of those who are unable to give free rein to their imagination and creativity.
But don't worry, in the latter case the best advice is to start with the little things. The moodboard is just for this: you have to imagine it as a puzzle, to complete the pieces we have to put them by looking for them in the things and worlds that we like most and represent us. There is no right or wrong way, simply our home must be a mirror of our personality and therefore adapt to our tastes.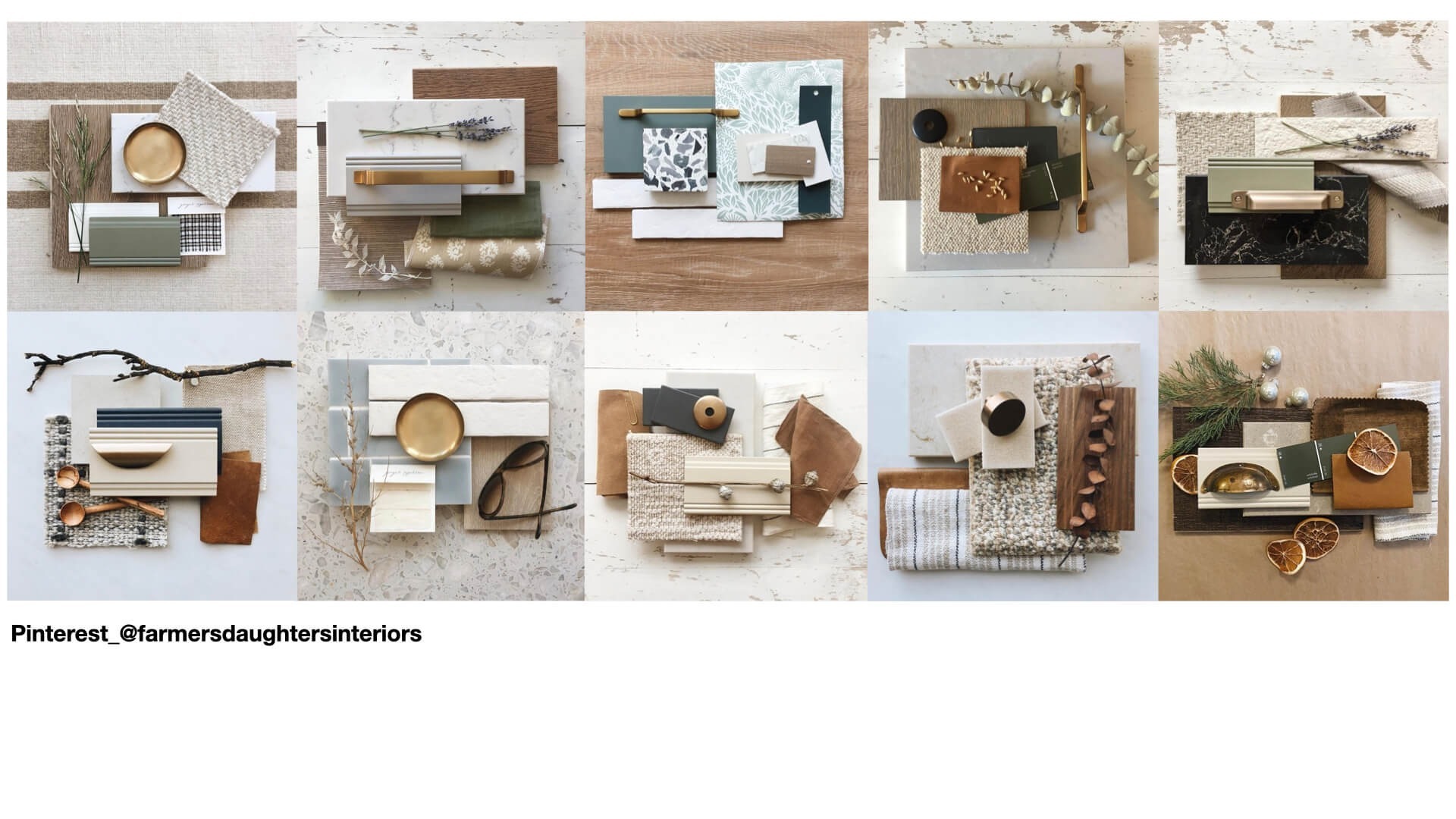 Let's see which elements to take into consideration when creating a moodboard:

THE 5 SENSES
A professional and well-made moodboard is not a simple collage of images taken from a newspaper because the environment will not be experienced only from the visual side, but must involve all 5 senses, taking into account textures, finishes, fragrances, materials and much more. . It is about expressing a concept, a representation of ourselves and of the emotions that characterize us through sight of touch and smell, and here we can insert a piece of tile that we will want to use, a piece of fabric, a texture, but also objects, photographs, flowers and plants and understand what you want to express through these materials.
PICTURES
You don't always have the time, the ability or the resources to physically create a moodboard, so the advice is to go in search of ideas from existing sources. For this purpose, there are various inspirational platforms on the web, the best known is Pinterest, and they can help us design our new project
EMOTIONAL INVOLVEMENT
The primary purpose of the mooodboard is to arouse emotions, because that is exactly what the environment will have to do once completed. We therefore give space to our way of being, from the analysis of the way we dress, to passions, to favorite music, etc. The environment must be welcoming and positive for the mood.
Obviously those listed above are only guidelines, the furnishing project of your home is strictly personal and subjective, so when you do not have the skills you rely on a designer who will involve the customer in the project and will put down a first one. draft only after obtaining the approval of the latter.