We have already told you about Ferri Mobili and how it has managed to make a name for itself by pursuing its idea of proposing furnishings without standard measurements' constraints. It is precisely based on this concept that the company has developed its philosophy of "Made to Measure, the Same Price".
If you want to know more about Ferri Mobili, read the dedicated article.
This company philosophy perfectly fits the new design requirements, which increasingly call for flats' functional furnishing with unconventional sizes and spaces, such as lofts and attics. 
Even in houses like these, it is possible to create more space, for example in an attic:
the sleeping area
the living area 
the study area 
the laundry area
the storage area
the wardrobe area
You may be wondering how you can fit all these rooms into an attic, even a small one. The secret is customization. Customizing the space according to your needs, without resorting to standard measures, helps us organize these environments in the most functional way possible.
Ferri Mobili, with its three main features, the flexibility of sizes, a wide range of colours and ability to customize, is an intermediate proposal between the costly made-to-measure carpentry products and the standard ones of more industrial origin. Extremely flexible industrial products, capable of providing cost and time guarantees that a handcrafted product cannot.
This is why we want to introduce you to a new Ferri Mobili project, designed specifically for the furnishing of attics: Mansarmadio.

A new and innovative furnishing system provides wardrobes, walk-in wardrobes and service wardrobes flexible in height, width and depth. Allows you to create the closet you need, capable of adapting perfectly to the inclination of your attic. With the Mansarmadio system, we can exploit every square metre available with practical, functional and attractive solutions.
It is easy to understand that in this way we can furnish different types of attics, from those with a sloping roof to those with a stepped roof, but also attics with a double-pitched roof or with beams and, why not, even under the stairs. Mansarmadio represents the maximum expression of the Ferri Mobili philosophy, Made to Measure, Same Price.
Let's take a look at a few implementations and examples.
Partially pitched attic
It is not said that an attic has a sloping roof; this may have a regular part of the ceiling. With Ferri Mobili proposals, it is possible to create a wardrobe that can take full advantage of the space available, with long doors that follow the maximum height of the ceiling and doors that adapt to the inclination of the ceiling.
In the photo composition, we see a large bedroom made with a wardrobe with hinged doors that hides, thanks to the folding door, a real dream walk-in wardrobe.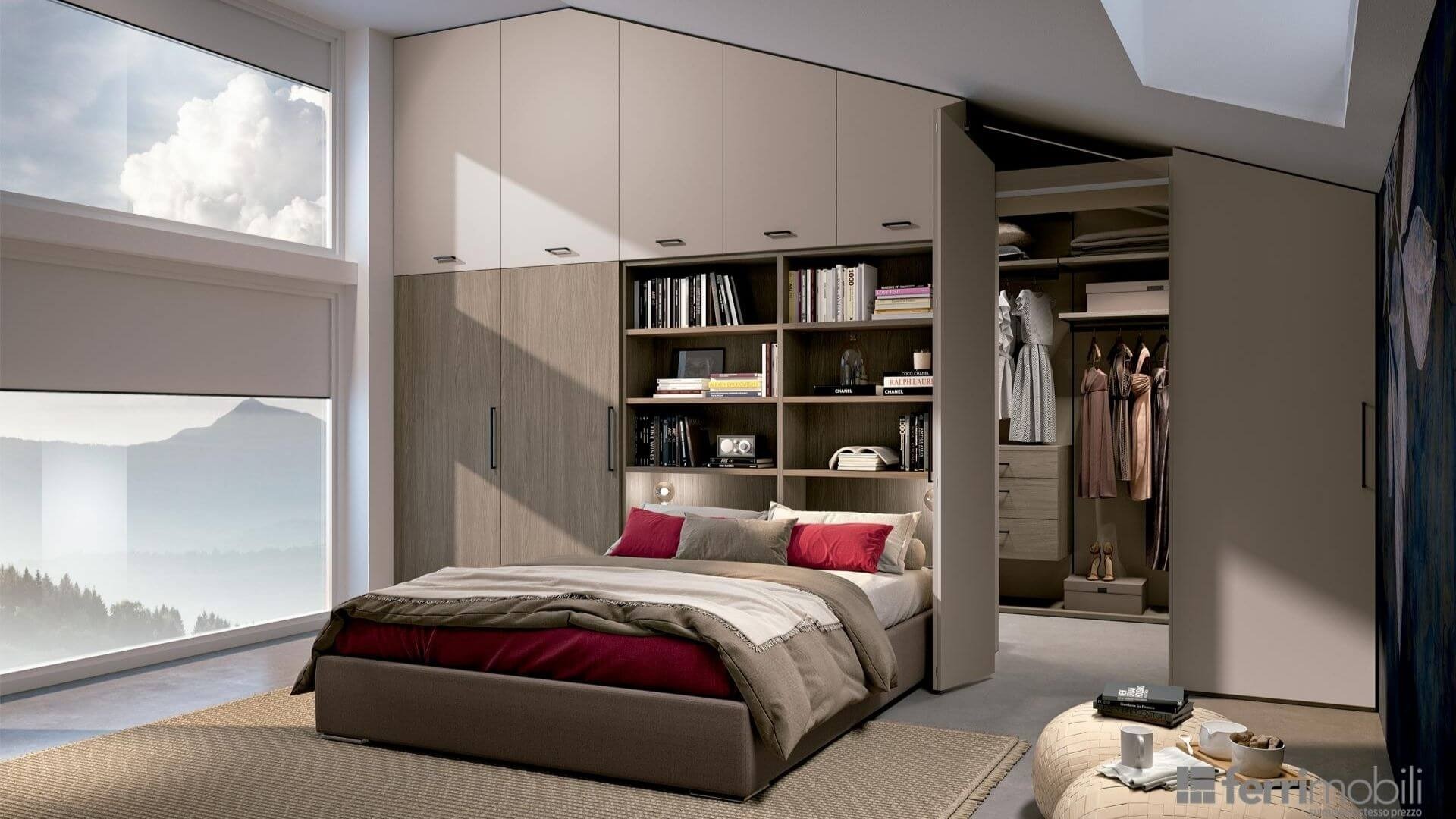 Under stairs
Do you have a staircase taking up space in your living area and don't know how to use the space? Well, find inspiration from the composition below: a wardrobe and a bookcase with a reduced depth that allows access to the back via a portal.
Ingenious!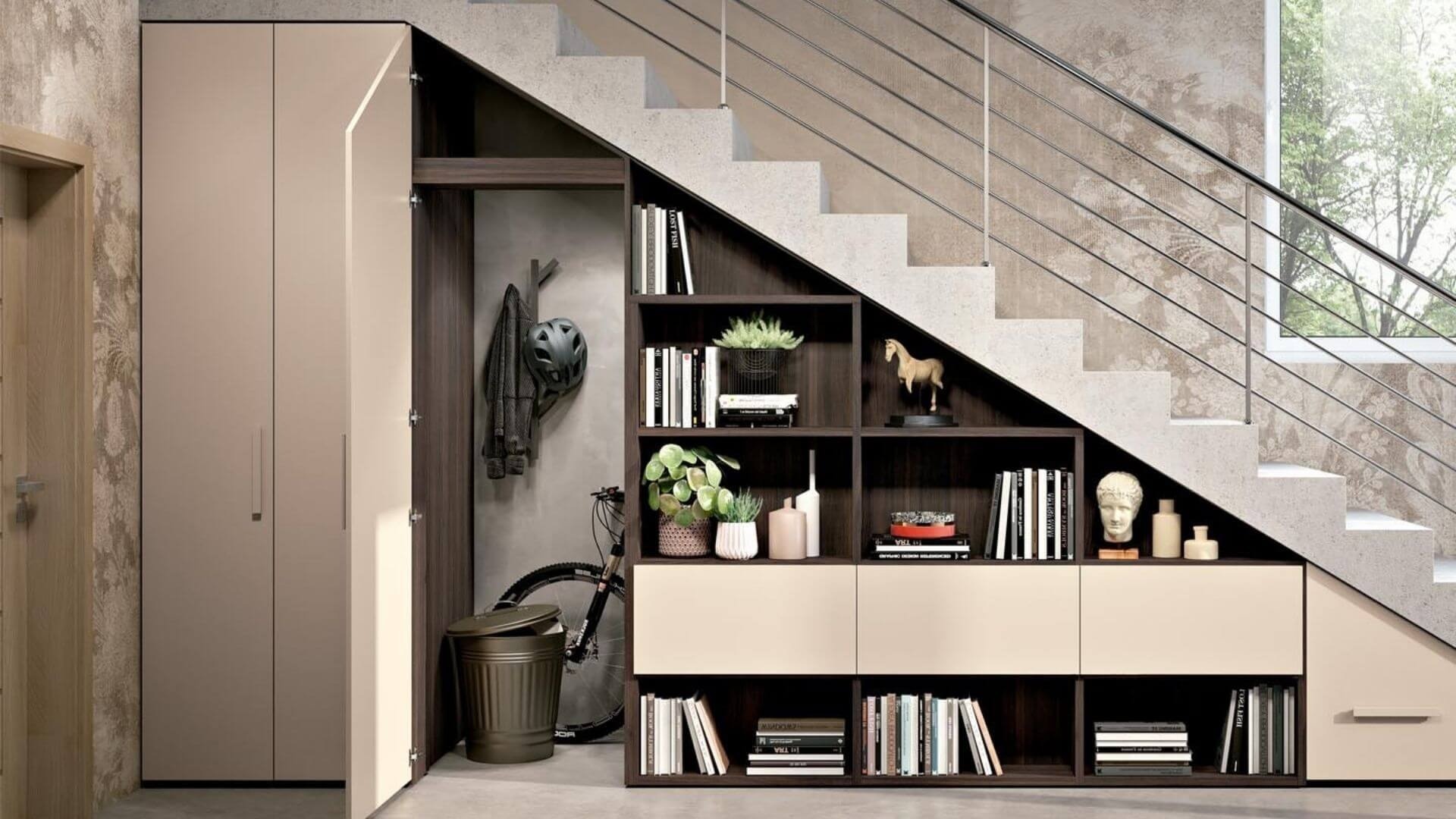 Not only living rooms or bedrooms, but sloping ceilings are often found in the bathroom and make bathroom furniture difficult. In the photo, we see a composition that takes advantage of the space that is usually left unused in an attic bathroom and keeps it tidy.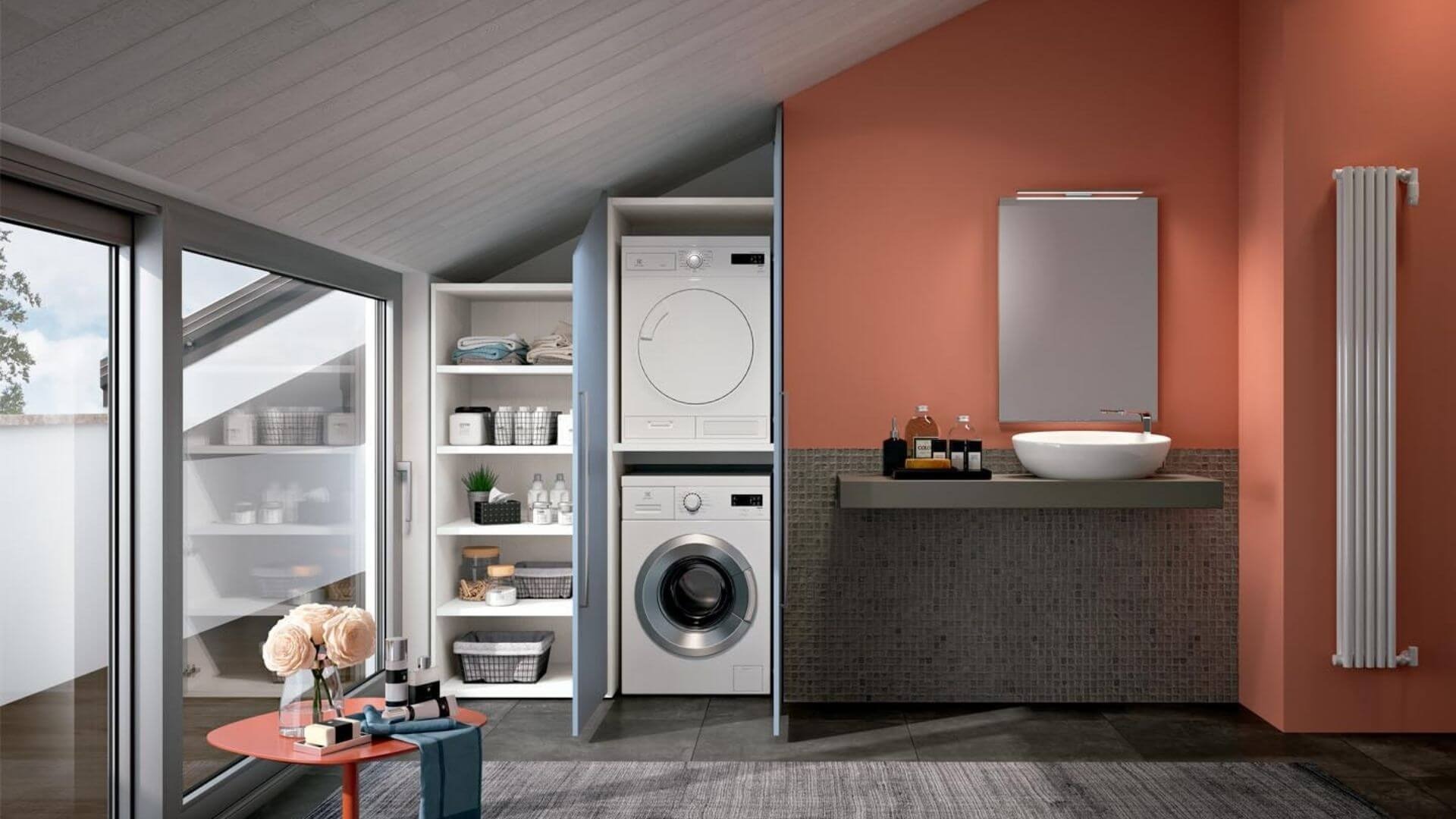 Ceiling with beams
Creating a wardrobe for an attic ceiling is not easy, even less so when the ceiling also has beams. You have to know how to exploit height and width following the beams' pitch, only in this way it is possible to obtain a functional wardrobe. 
Here is an example.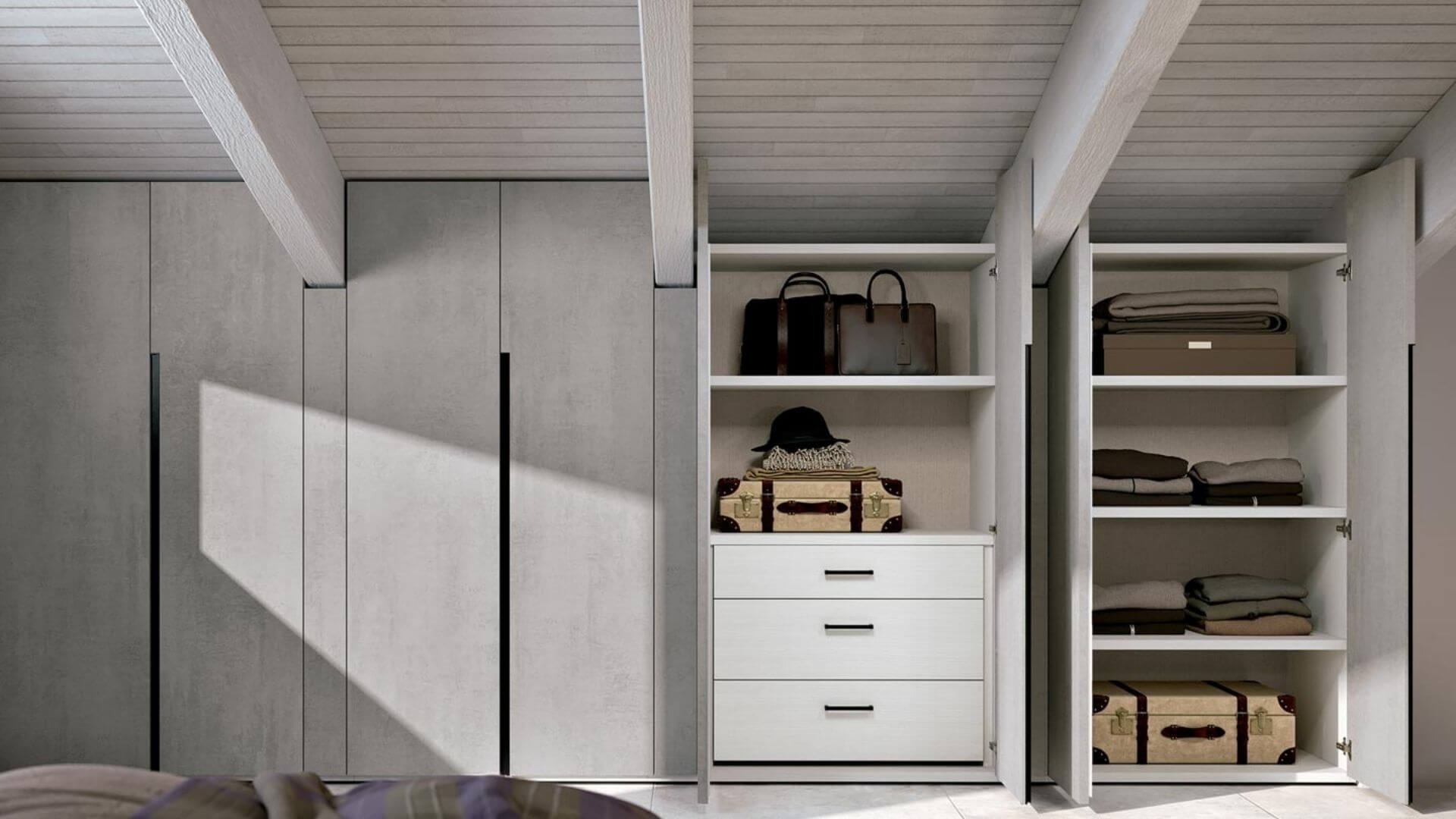 Again because we want to show you how we can furnish your attic with beams, here is another composition. Here we see the division of a single room into two different areas, the day area and the night area. A double-sided bookcase has been inserted to create this division.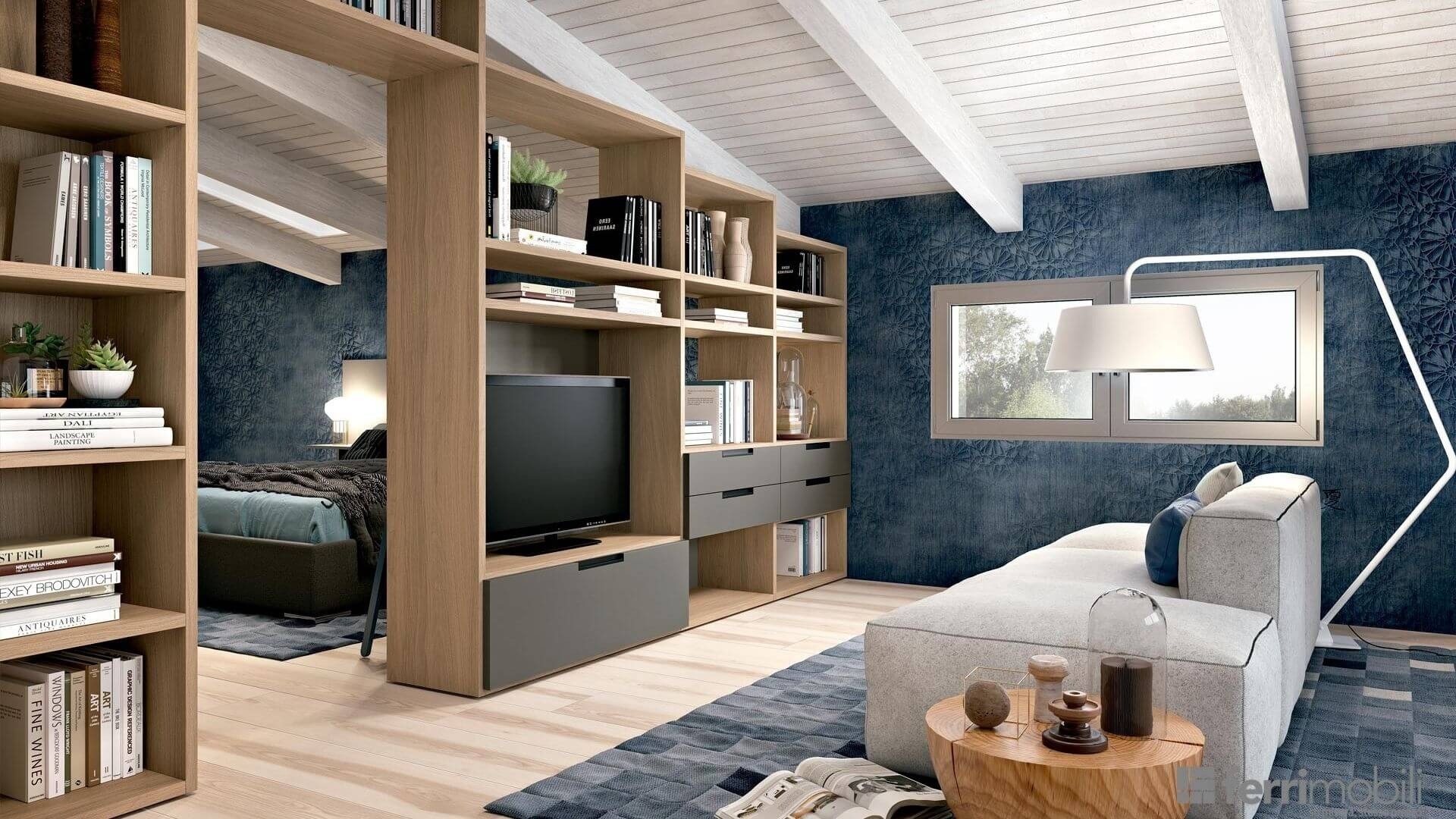 Your is an attic with mansard beams? With Ferri Mobili we can make custom-made wardrobes for this ceiling type, as you can see below.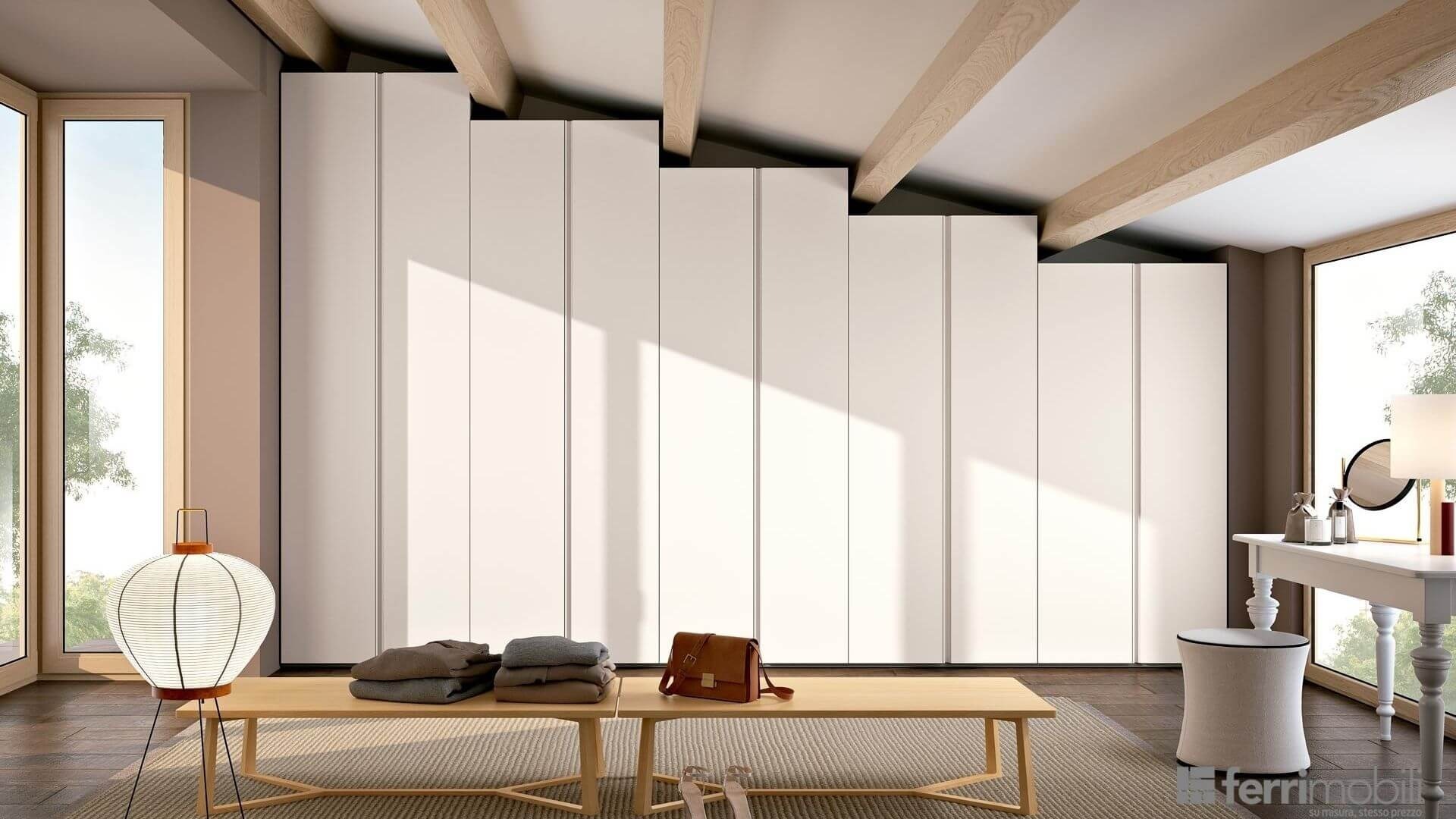 These are just a few examples of how you can make the best use of the space and ceiling in an attic. Depending on your needs, you can choose the most functional combination.
The many finishes and materials available also allow you to create modern, attractive furniture.
See the other Ferrimobili proposals at
this link
Please stop by our showroom to create the perfect composition for your attic room.