One of the most challenging and exciting moments in designing a new flat is the phase of subdivision and organisation of space. When creating a new home, we need to be clear about our client's requirements, needs and tastes and propose a project that meets their needs and complies with building regulations.
Sometimes it is not easy to fulfil all of our customers' wishes, but thanks to sliding glass doors, we can come very close to meeting their expectations. These doors are, in fact, a practical and functional solution that allows you to divide rooms fluidly, creating original and refined rooms that make the most of all the space available.
The sliding glass door is a versatile element that can be well used in all house rooms, from the living room to the kitchen and for the bathroom and the walk-in wardrobe.
To show you what we have said, we would like to offer a few examples of the Cristal Design Visioni line from the Aip Porte Group.
The advantage of choosing a glass door is undoubted that you can play with this material's transparency and create fascinating plays of light. Depending on the type of glass you prefer, you can create different atmospheres:
Transparent glass
Cristal Design Visioni offers five variants of this glass: Float, Extra Clear, Grey, Bronze and Dark for colours ranging from neutral to greenish, bronze and black.
Satin-finished glass
Satin-finished glass is also available in Float, Extra Clear, Grey, Bronze and Dark. This type of glass is characterised by reduced transparency of the material; in fact, one of the two sides has a uniform surface finish that gives the glass its typical satin appearance.
This type of glass is perfect if you want to create a relaxation area in your bedroom. The satin-finished glass allows you to create romantic light effects without sacrificing privacy. The photo shows an example of a door from the Trasparenza collection with extra-clear satin glass.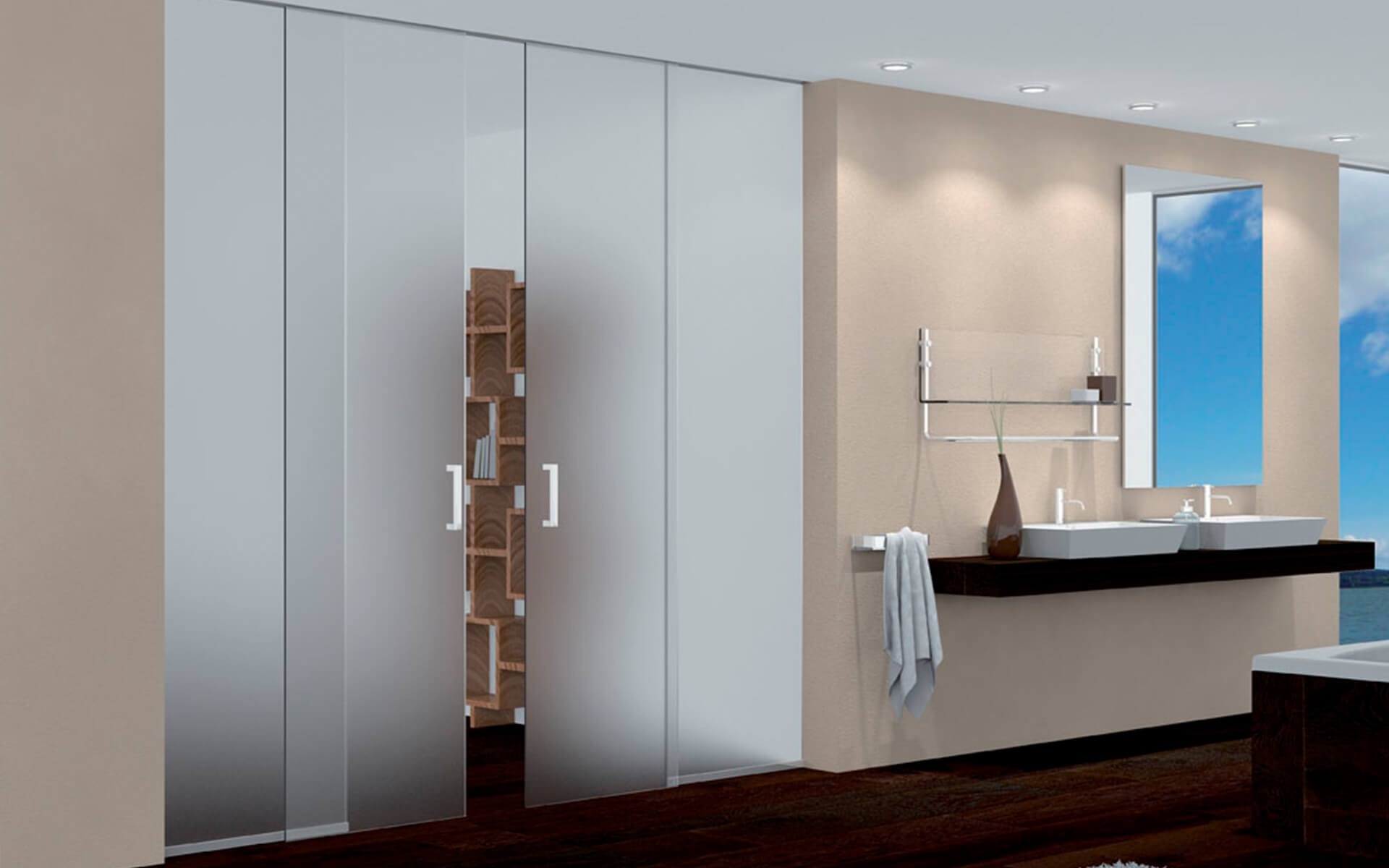 Sandblasted glass
To achieve the sandblasted effect, one side of the glass is subjected to the abrasive action of sand projected by a jet of compressed air, giving it an iridescent effect that still allows light to shine through. This glass type is available in the same variations as clear and satin glass, with different sandblasting intensities.
Reflex glass
This glass has the particularity of having a metallic reflective effect. With this type of glass available in both transparent and frosted versions, the surface's reflection increases as brightness decreases.
Mirror effect glass
A typical process is applied to the glass that makes the surface 90% reflective.
Imagine you have a small room, and you still want a beautiful walk-in wardrobe. The solution could be to create a walk-in closet with mirrored sliding doors, as shown in the photo below. Mirrors reflect the light and give your room the feeling of being more extensive and more spacious.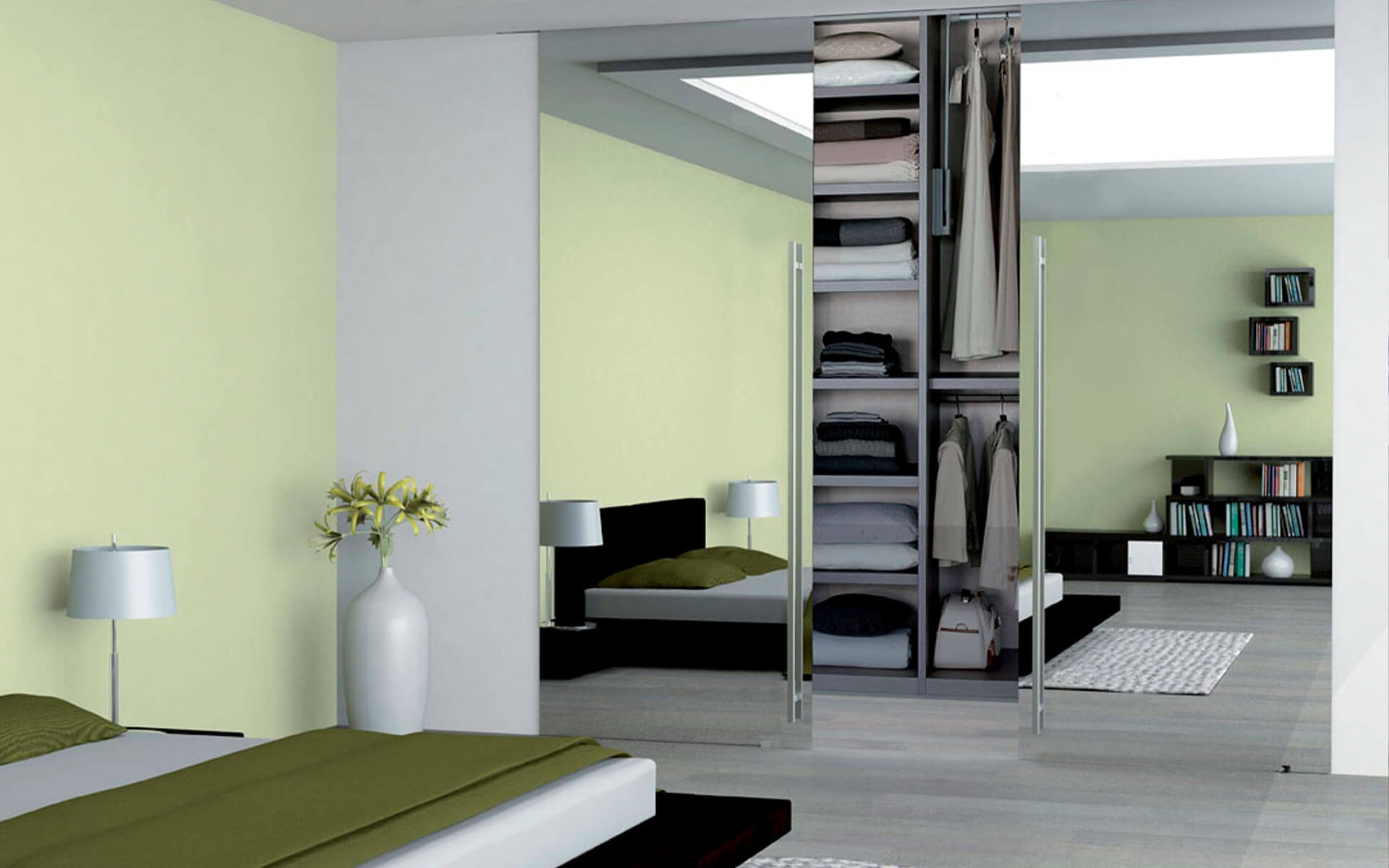 Satcolor glass 
In this case, the glass undergoes a processing procedure that results in coloured surface sheets without losing the transparency characteristic of this material. In the picture below, we see a Satcolour door graduated with stars nuance of grey, but Aip Porte offers different colours such as white, black, pearl, anthracite grey, dove, sage, lime, mauve, pomegranate, purple, earth and sky.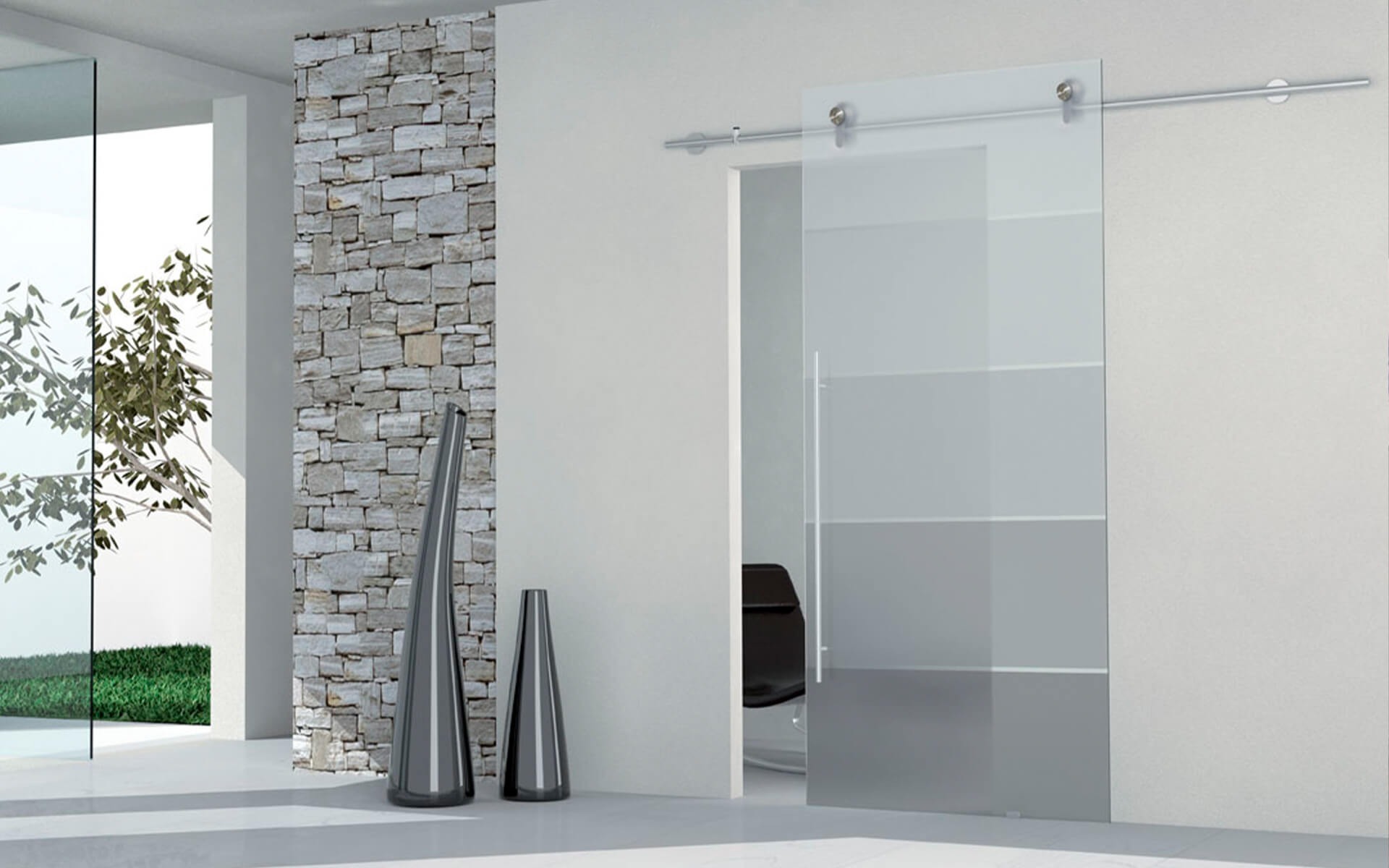 All this glass can then be processed and decorated with paints or engravings. In short, a wide range of different possibilities to make your environment unique!
In the picture below, we see a beautiful frosted glass decorated with floral motifs. A great idea to separate two rooms and, at the same time, create continuity between them. Besides, the decoration gives your flat style and elegance.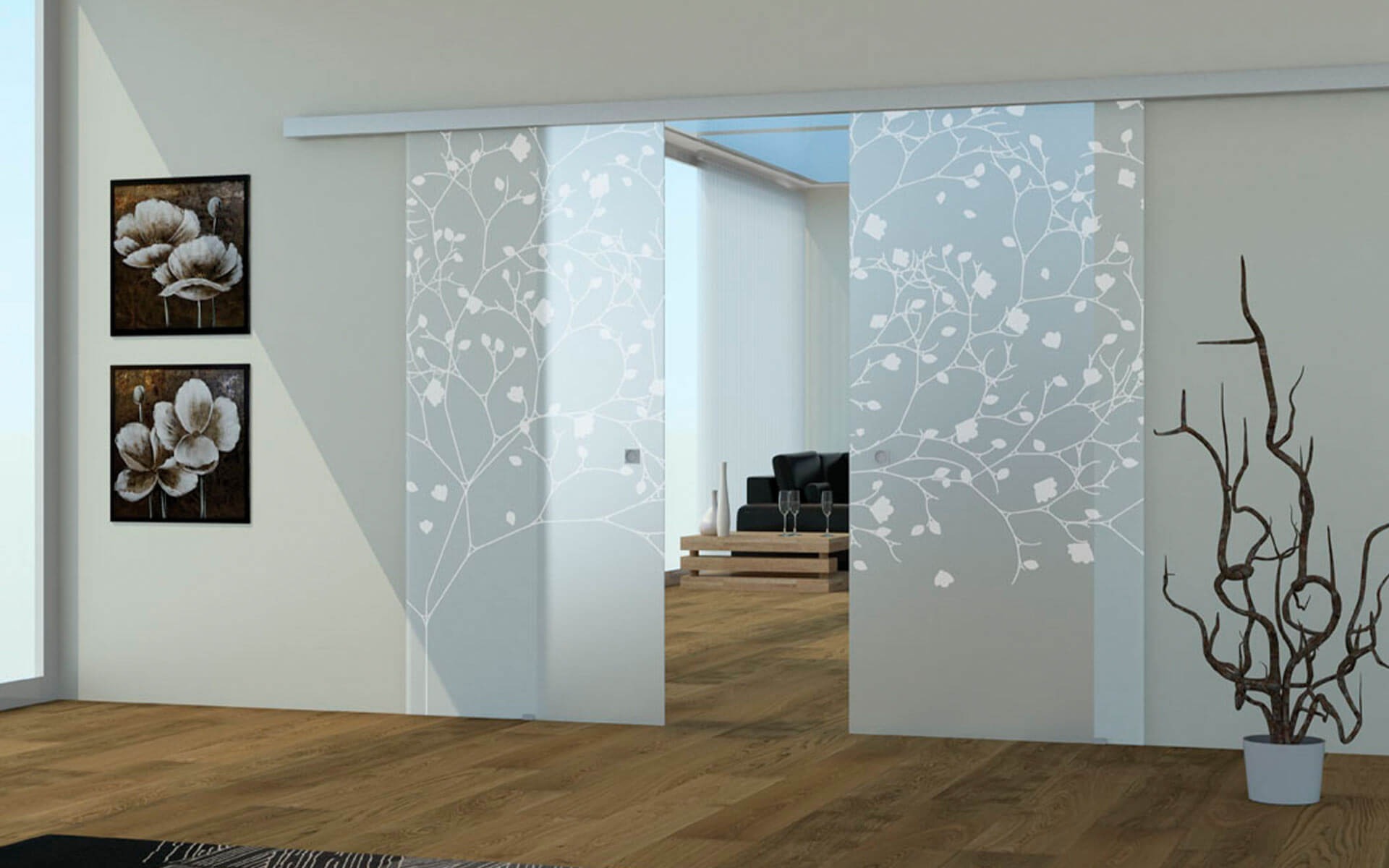 The last example we want to show you today is the following. An extra-clear transparent glass with a sandblasted decoration hollowed out and painted red. With a skilful combination of all these glass processing techniques, it is possible to create sliding doors with a unique charm.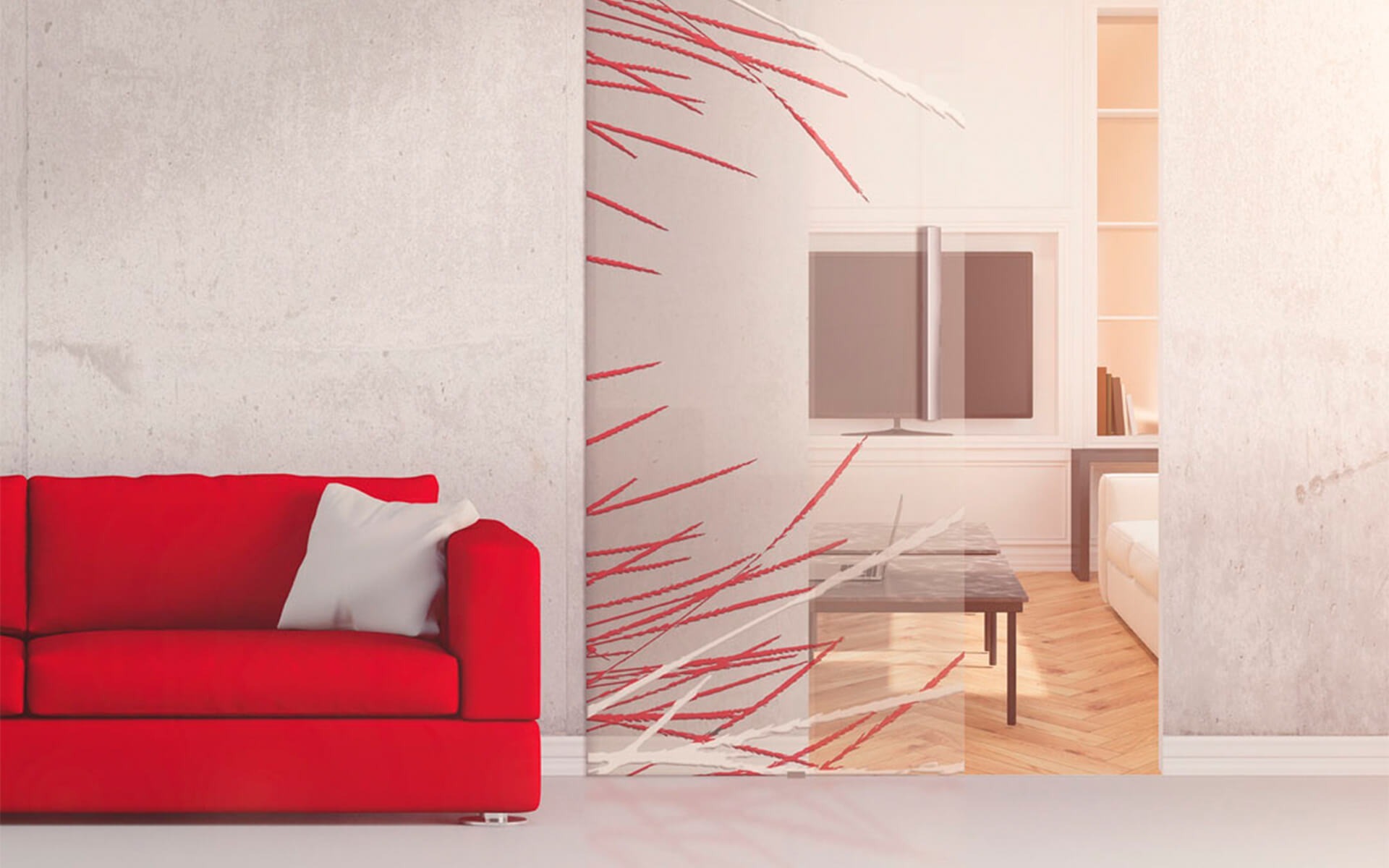 Glass doors are at their best when they are made with sliding systems. With a sliding glass door, it is possible to widen the spaces while enhancing everything behind. Cristal Design Vision produces sliding glass doors with eight different external sliding systems to give every room the right balance between essentiality and design, purity of line and solidity. These doors can also be made with in-wall sliding systems. Here it is the presence or absence of the frame that makes the difference.
If you would like to see more solutions, please also visit our website's sliding doors section.
The world of sliding glass doors is vast and varied; we wait for you in our showroom for more information!